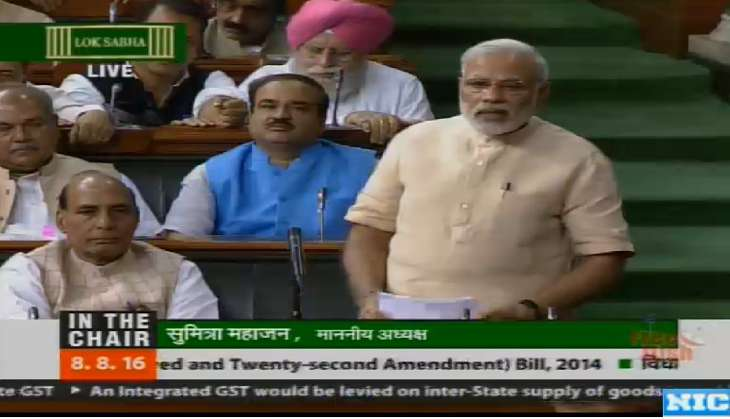 Lok Sabha today unanimously passed the 122nd Constitutional Amendment Bill as amended by the Rajya Sabha with all 443 members voting in favour.
Expressing gratitude to all parties for support, Prime Minister Narendra Modi described GST as a crucial step towards ending tax terrorism besides reducing corruption and black money and said the new regime of indirect taxation will make consumer the king.
He emphasised in Lok Sabha that the passage of the GST Constitution Amendment Bill by Parliament was not a victory of any party or government but was everybody's victory as it highlighted the success of the democratic ethos of the country.
Intervening in a debate on Constitution (122nd Amendment) Bill, Modi asserted that the GST will benefit mainly those states which are considered backward and address the problem of imbalanced development.
He acknowledged that manufacturing states will suffer losses but said they will be compensated. 8 August marks a crucial step towards freedom from tax terrorism, the Prime Minister said, while recalling that this was the day in 1942 when Mahatma Gandhi had sounded the bugle of 'Quit India' which marked a major step towards the country's Independence.
GST can't be seen as a victory of a party or government. It is the victory for democratic ethos of India and a victory for everyone, he said, while noting that the measure was being supported by all parties, irrespective of different ideologies.
Reacting to the passage of the GST bill, Congress vice-president Rahul Gandhi said that the passage of the Bill is 'a good step for the country'. He said, "We earlier had three major differences on GST and we have worked that out. We still have an issue on the 18 percent cap, which will be discussed in December."
Meanwhile, Mallikarjun Kharge questioned the BJP leaders, including PM Modi, on why their party had opposed the GST Bill when the UPA was in power, with Modi, then Gujarat Chief Minister, terming it "anti-states".
The GST Bill had been in the pipeline for more than 10 years and it contains an introduction of a single indirect tax structure for India.
-With inputs from PTI