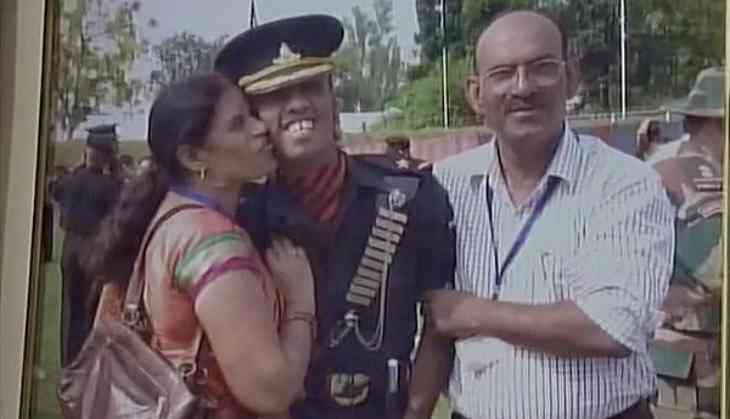 24-year-old Captain Ayush was among the three Army personnel killed in the deadly terror attack on an Army camp in Kupwara yesterday, and the news has left the young officer's family devastated and bereft of all hope.
Trying to hold back tears while speaking to the media here, the slain officer's father recalled how he sensed something was not right when he saw the news about the attack on Thursday morning.
'I was watching the news and doubts started creeping in my mind when I heard that an officer was also killed and that his rank was captain from the Artillery. Then I got a phone call from an officer informing me about Ayush and that was that,' he said.
Appearing to be in visible pain, he went on to say that his son's time had come too soon, and that he was too young to die. He also recalled happy moments with his son, especially when they would talk about his marriage.
'I used to joke to him about his wedding and tell him that we should start looking for girls for him. But he would push the matter away saying he was too young. Nevertheless I would push him saying I want to see him settle before I retire from police force,' his added.
Ayush was more close to his mother, his father said, adding that she had spoken to him the night before the attack, and that he never picked up the phone again when she called on Thursday.
'Government needs to do something about its policy or else our boys will keep dying like this. But honestly, I have nothing to say to the government nor do I have any hope from them,' he added dejectedly.
Captain Ayush Yadav, Subedar Bhoop Singh Gujjar and Naik B Venkata Ramanna were killed in the attack on the Army camp yesterday.
Condemning the Kupwara attack, deputy Chief Minister of Jammu and Kashmir Nirmal Singh assured that India would give a befitting reply to 'desperate' Pakistan for trying to ruin the atmosphere in the Valley.
'We condemn this strongly. We pay our tributes to the jawans. Pakistan is trying to mess the situation as much as possible, but that would not be possible. Our jawans are doing their best and will not let them be successful. Their actions will be answered,' Singh told ANI.
Dubbing it as a coward action, Singh said that Pakistan is desperate to create problems in Kashmir and warned it of severe action.
'Pakistan is going to suffer. We are going to reply in the same way. The Union government is well prepared,' he added. Two terrorists were also neutralised in the attack.(ANI)