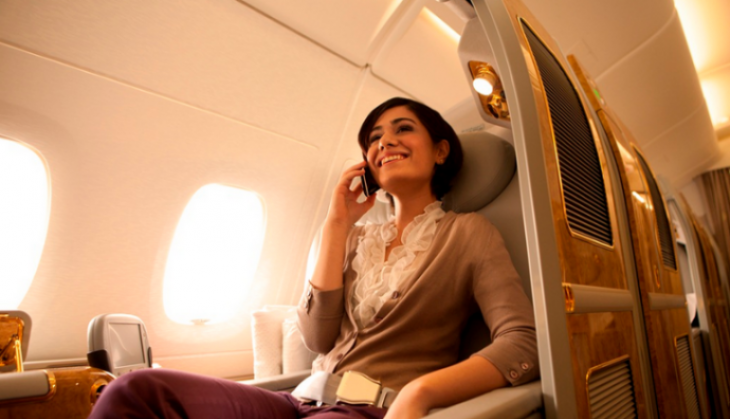 Good news for all flyers as they can finally soon make calls and have access to Wi-Fi connections onboard on flights as the Telecom Commission of India on Monday gave green signal to a proposal for Wi-Fi services.
The mobile phone calls and internet services will be allowed in domestic and international flights in India, the sources said. "Exciting times ahead in Indian skies as Telecom Commission approved data and voice services in flights over Indian airspace," Civil Aviation Minister Suresh Prabhu said, announcing the Telecom Commission's decision. The minister said that he will ensure "earliest implementation" of the proposal as the government remains committed to improving services of air passengers and making their travel delightful and hassle-free.
According to sources, the pricing of providing the services would be left to respective airlines. The Home Ministry has already given its nod to the proposal. On 20 January, The Telecom Regulatory Authority of India (TRAI) had recommended onboard connectivity of both the Internet and MCA (mobile communication on aircraft) services over the Indian airspace. "Both Internet and MCA service should be permitted as in-flight connectivity (IFC) services in the Indian airspace." TRAI had then said. With this approval, frequent fliers no longer will have to turn on 'airplane mode' while taking a flight.
TRAI had said, "As long as the provision of the service is technically feasible and security concerns can be addressed, there should be no regulatory barrier in the provisioning of any of these services." Telecom Commission also approved regulator Trai's recommendations on internet telephony in its meeting on Tuesday.
Another proposal that received approval entails the creation of an ombudsman to deal with telecom grievances, PTI reported citing telecom secretary Aruna Sundararajan. The ombudsman will be set up under Trai and will require an amendment to the Trai Act, PTI reported.
About 10 million grievances are received per quarter in the telecom sector, PTI reported citing telecom secretary Aruna Sundararajan said. She also added that the new mechanism of the ombudsman will result in a better and satisfactory consumer grievance redressal system.
Also read: After 'Paan shop' remark Tripura CM Biplab Deb warns people not to poke; says 'will chop off nails of those who interfere in his government'