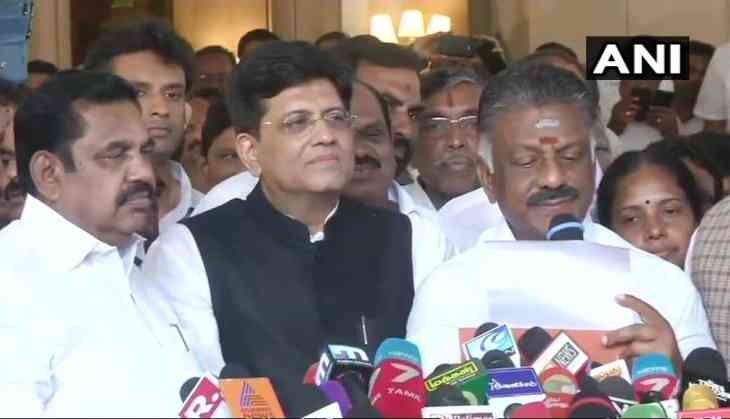 BJP-AIADMK tie-up for 2019 polls
After many opposition, the AIADMK has announced its alliance with BJP for the upcoming polls and has opened the gates for the latter in the South India.
Informing about the most coveted yet predictable tie-up, Piyush Goyal said, "I am extremely delighted that the AIADMK and the BJP have concluded very fruitful discussions and agreed to contest the parliamentary elections both in Tamil Nadu and by-elections to 21 seats together in alliance along with other friendly partners."
Both the party's have agreed to contest the state election under the leadership of AIADMK and the national election under BJP's PM Narendra Modi.
Tamil Nadu Deputy CM O Panneerselvam: AIADMK and BJP will have an alliance for Lok Sabha elections which will be a mega and winning alliance pic.twitter.com/WeEADmnzR6

— ANI (@ANI) February 19, 2019
Tamil Nadu CM E Palaniswamy, Deputy CM O Panneerselvam and Union Minister Piyush Goyal in Chennai after having talks on BJP-AIADMK alliance pic.twitter.com/KDmfsqsuVD

— ANI (@ANI) February 19, 2019
Tamil Nadu's deputy CM and AIADMK chief O Panneerselvam informed the media about the BJP's number of seat, "BJP will contest on 5 seats in Lok Sabha elections & we will be contesting together in Tamil Nadu & Puducherry."
The Tamil Nadu politics has taken a complete 360 degree turn after the demise of two stalwart politician, namely AIADMK's J Jayalalitha and DMK's M Karunanidhi. Now, after the entry of several players like MNM's actor turned politician Kamal Haasan and Rajanikanth, the cap of high command politics in Chennai has opened up and would be interesting to see how the Opposition like DMK-Congress and other in the alliance would fare out.
Panneerselvam had earlier informed, "Pattali Makkal Katchi (PMK) joined our alliance today. 7 seats allotted to PMK for the upcoming Lok Sabha elections 2019. We will fight on 21 seats in by-elections & PMK will support us."
Also read: PM Modi in Varanasi: 'It is sad that Vande Bharat express is being targeted, it's an insult of engineers'