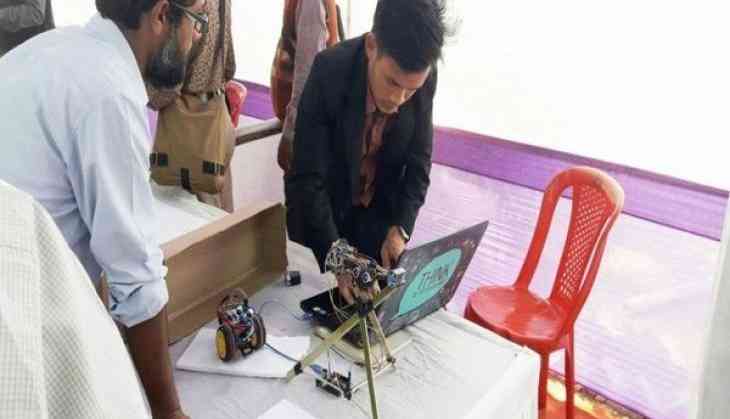 Innovation and inventions have created wonders and have revolutionized the world.
Technology is an integral part of human lives and is known to make people's lives easier. A young boy from the north-eastern state of Arunachal Pradesh has created one such technology, goggles which will make moving around for the visually impaired a lot easier.
Anang Tadar, a 20-year-old mechatronics innovator from Arunachal Pradesh, has developed a special kind of goggles, which use echo location technology, to help the visually impaired move around freely.
Echo location is also what is used by bats and dolphins for navigation.
His brilliant innovation has been making headlines across the country and won accolades.
Tadar's love for technology and his out of the box thinking led to the birth of Goggle for Blind (G4B).
Every time a visually impaired person will come close to an obstacle, the device will send a warning signal to the user.
"I remember myself playing with electronic toys and curious about them and trying to explore how they work so the invention I made was G4B. Actually I wanted to help the blind people, although I can't give them eyes but virtually I can make machines which can help them navigate in their surroundings because these days there are lots of sign boards, electrical posts in this developing so it becomes really difficult for the blind people to navigate around," he said.
Tadar's invention was adjudged most innovative in the recently concluded Regional level Science Festival held at Regional Science Centre, Guwahati.
"Actually it does is like it detects the obstacles within a range if the obstacle is on the right then there will be feedback on the right side of the wearer and vice versa. So based upon the distance the intensity of feedback will be increased or decreased so the blind people can even know how far the obstacle is it in the right or in the left," said Tadra.
Tadar's G4B was also lauded at the national level science exhibition held early this month at Rashtrapati Bhawan in New Delhi.
Reportedly, the UNICEF has asked Tadar to develop a few more prototypes of the product, which is quite bulky right now.
"Basically the initial prototype went around (rupees) 15,000 and I had to test different microprocessors, sensors and so many even gets dry up during the test. If it is launched in the market I think it will cost around (rupees) 1,000 and every blind people can easily afford it," he said.
Besides this, the class XII student is involved in making various electrical equipments, gadgets of different kinds, robots etc.
"Actually I have lots of ideas in my mind. Right now I am thinking of making exoskeleton shoot the idea came up because I have seen my father carrying heavy goods from forest. I feel the pain and the weight they go through always. I want to make it for my father," he said.
Tadar, who hails from a family of modest means, remains committed to his dreams. He uses his pocket money for building his projects.
Tadar's exceptional talent has also been noticed by the state government. Chief Minister Pema Khandu has assured full financial support to Tadar to fine tune his innovation and produce it on a large scale.
Such novelty will set a benchmark in the world of technology and in the long-run will inspire the youth to develop path-breaking technologies.
-ANI