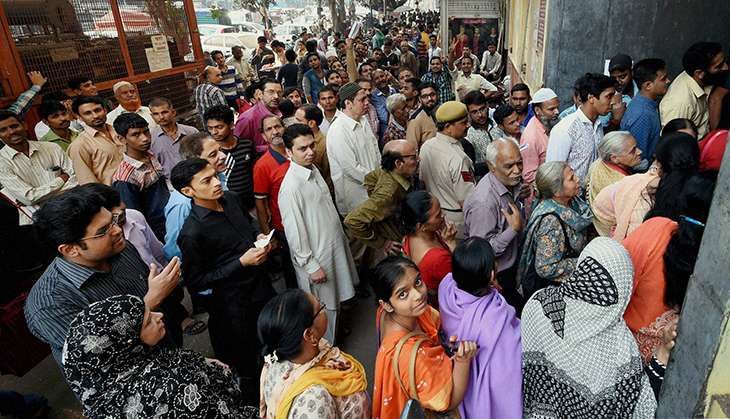 The nation went into a tizzy on 8 November after Prime Minister Narensra Modi announced the blanket ban on existing denominations of Rs 500 and Rs 1000. Many scrambled to procure new notes and liquid cash, while banks struggled to meet the sky-high demand. Here's a look at top developments since the announcement:
1. Immediately after the shock announcement on 8 November, people rushed to their closest ATMs to withdraw cash before they closed.
Also Read: Demonetisation is in interest of our honest citizens who deserve a better India: PM Modi
2. On 11 November, people stood in long cues to get their hands on the new Rs 500 and Rs 2,000 notes as well as to stock up on Rs 100 notes.
3. Many were shocked to find out that some ATMs were still closed and would only start functioning on the evening of 11 November or later.
4. Daily wage-earners were the most-affected. Apart from confusion, some of these worker expressed dismay at their inability to meet their expenses until the situation had stabilised. Several workers have no bank accounts and get paid in denominations of Rs 500 and Rs 1000. "The daily going rate for a raj mistry is Rs 550 and for a beldar it is Rs 350. We live hand to mouth. Today, when maliks turned up, they said they will pay us in a few days because they do not have enough change," Ram Pyarelal, a beldar, told the Indian Express.
Also Read: Meet the new Rs 2000 currency note
5. On 9 November, banks announced that the current surcharge levied on using ATMs of different banks has been waived for now.
6. Under the current proposal, one can withdraw Rs 2,000 per day, per card in the first few days from an ATM. The amount will be later raised to Rs 4,000 later.
7. Arundhati Bhattacharya, chairman of India's largest bank SBI said: "Re-configuration (of ATMs), as we have done in the past, takes time so it has to be done one by one. It should be normal in ten days' time because you have to understand that there are two lakh ATMs (of all banks) in the country but there are only three to four vendors in the country."
Also Read:Got cash in your wallet? Know how the currency ban will affect you
8. By Friday morning, many people figured out that ATMs are currently configured in a way that it can dispense just Rs 500 or Rs 1,000 notes. To dispense Rs 100 notes, they have to be reconfigured too.
Also Read:Got Rs 500/1000 notes? Here's are the places you can still use them till 11 November midnight
9. As of now, old Rs 500 and Rs 1000 notes will become completely invalid from 11 November midnight, once petrol pumps and hospitals stop using them. However, one can still deposit them in banks.
10. Deposits of up to Rs 2.5 lakh will not be taxed. Banks will stay open this weekend - Saturday and Sunday - with some banks announcing longer working hours.
Also read: RBI Guv addresses nation after union government bans Rs 500 and 1000 notes