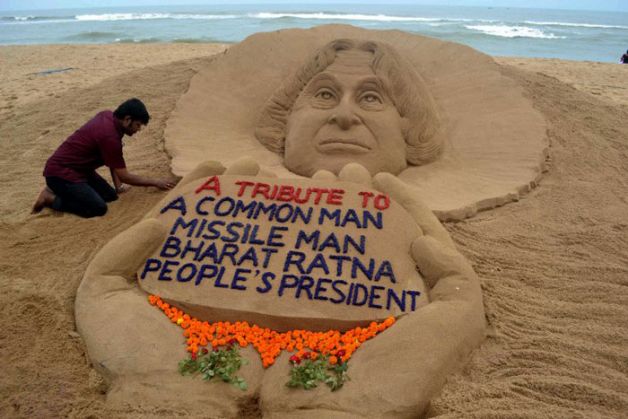 "I will not be presumptuous enough to say that my life can be a role model for anybody; but some poor child living in an obscure place in an underprivileged social setting may find a little solace in the way my destiny has been shaped. It could perhaps help such children liberate themselves from the bondage of their illusory backwardness and hopelessness."
- APJ Abdul Kalam in Wings of Fire
Even before his burial concluded in Rameswaram, the question of how we will remember APJ Abdul Kalam, the People's President, was being asked.
Two demands stand out: to rename Aurangzeb Road, New Delhi, after Kalam; and to replace Mahatma Gandhi's face on Indian currency notes with Kalam's.
At the heart of Lutyens' Delhi, Aurangzeb Road is home to India's rich and powerful. But a certain section of the population has always wanted the name of the road changed because it is named after the Mughal emperor Aurangzeb.
In 2014, the New Delhi Municipal Corporation was petitioned to rename the road after Sikh leader Guru Tegh Bahadur, but rejected the call. Signposts on that street are often blackened. The same section of the population views Kalam as opposite to Aurangzeb, the emperor who put his faith first.

Mahatma Gandhi appeared on Indian currency notes in 1996, when the Mahatma Gandhi series replaced all the other currency in circulation. An RTI query on what led to this change met with an unsatisfactory response.
Nonetheless, demands to print the faces of other leaders on the currency, including Bhagat Singh, BR Ambedkar, Subash Subhash Chandra Bose, Shivaji, or a female icon, have been made at various times. Such demands have been ignored by the authorities.
There are also demands to rename the Rashtriya Avishkar Abhiyan and the Indian Institute of Technology, Madras, after Kalam, and to celebrate his birthday as World Students' Day.
Meanwhile, the Aam Aadmi Party (AAP) government in Delhi has replaced its ads with posters of Kalam's quotes and photos above its logo. This was done a day after it was slammed for forwarding its own agenda in government ads.
Is bringing Kalam's name into controversial issues an appropriate way to remember him? And is the token of naming policies, colleges, and days in his memory enough?
Kalam's nature was at odds with this kind of banal fanfare. His sole aim was to forward his vision and to see India at the zenith of development and harmony.
In his autobiography, Turning Points: A Journey through Challenges, Kalam recounts the day his presidential nomination was announced. At the time, he was teaching at Anna University. However, he saw the presidentship as an opportunity to put forward his vision for the country, as an opportunity to make change happen.
"One view that came across was that I was enjoying an academic life, which is my passion and love, and I shouldn't disturb it. The second view was that this was an opportunity to put forth the India 2020 vision in front of the nation and Parliament, and that I must jump at it," Kalam wrote in his autobiography.
Clearly, Kalam chose the second view. India must honour him appropriately.