ScrollDroll, an online media portal that adds humour to the mundane with their clever designs, has gotten into some trouble with the protectors of Hindutva.
A series of cartoons with Hindu gods in the time of social media, that their co-founder Rohit Bose considered "cute", offended the Hindu Janajagruti Samiti (HJS). HJS quickly sent a polite letter to the guys at ScrollDroll which read:
"We would like to bring to your attention that using the Hindu Gods Shri Ganapati , Shri Vishnu and Deity Hanuman in the name of creativity is insulting Them and very offensive to Hindus around the world. This leads to tarnishing the image of Gods and Hinduism. It also hurts the religious sentiments of Hindus.

"Would you create similar caricatures of Prophets and Holy figures of other major religions?

"We would like to mention here that hurting religious feelings leads to an offence as per the Indian Penal Code section 295A."

If was signed off with, "Please acknowledge this letter and inform us in writing about action taken by you, failing which, we will be forced to start a protest campaign. Awaiting prompt action and reply."
This letter, marked to Rohit, co-founder Ashwani and Info@ScrollDroll, was sent on 2 March.
On not having received a response from SD, HJS on 7 March sought a "protest against denigration of Hindu Deities by Scrolldroll.com" on their website.
The method of protest was for "supporters of Hinduism" to shoot emails to the founders, whose email IDs were provided in the notice.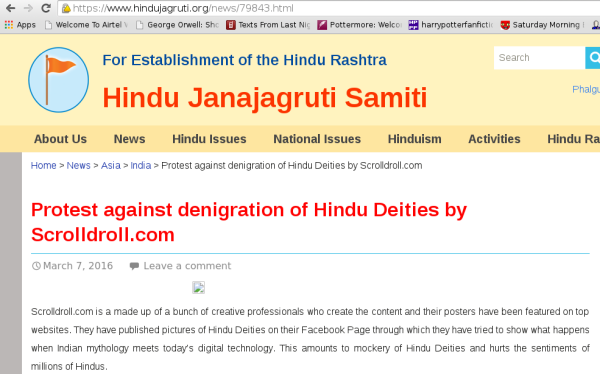 Messages pour in
While the Hindu deities cannot speak for their 'denigration', Rohit Bose spoke to Catch about the onslaught of messages filling up his inbox.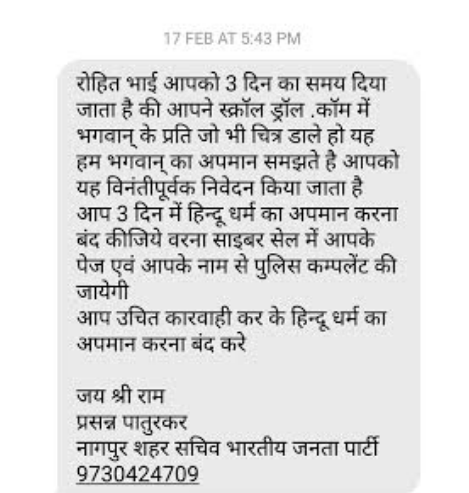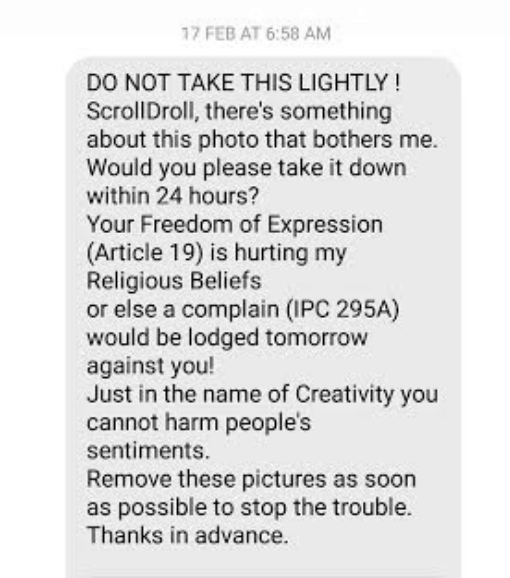 Most of the messages are threats to lodge a police complaint and take legal action, but there also have been those who suggested he made cartoons of his mother and sister being abused.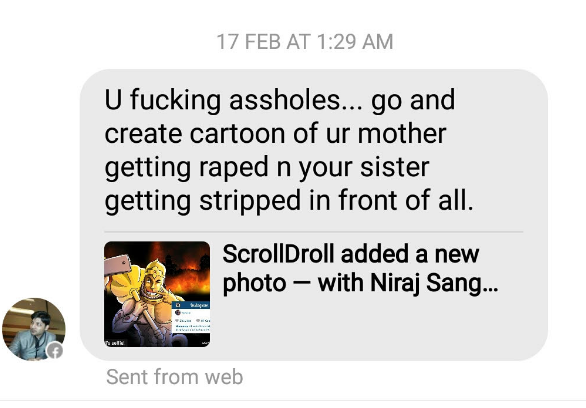 "I'm a bit scared," says Bose. "We have received hundreds of hate mails and loads of messages."
But would this fear make ScrollDroll take the post down?
"No," says Bose. "We took the Lord Krishna on Myntra post down. At first, we didn't think it was demeaning. But when we looked at it again, we realised it was and removed it."
Here's ScrollDroll's Facebook post:
What would have happened if characters from Indian Mythology used modern day technology. We give a twist to Indian Mythological tales spicing it up with modern mobile apps, services and internet.

Posted by ScrollDroll on Monday, 15 February 2016
But beyond that, they don't plan on taking the series down, and they definitely don't see the point to an apology.
"What do we apologise for? What clarification should we give? It makes no sense," says Bose.
How does it offend?
On being asked what the idea for such a design series was, he says, "We had put in a lot of thought, effort and hard work for this."
"Hurting religious sentiments is the last thing we wanted to do. We never thought this would offend or hurt people. People have been saying that we should make similar cartoons for other religions, why target only Hindus."
Bose's reponse to that is that it's a matter of popular culture. "Just like in the West they troll Jesus, make jokes and what not, they don't make cartoons on Indian Gods. And, I don't think we're making fun or demeaning the deities. We have just shown them using today's technology!"
Disturbed at the extreme reactions they have received for something they thought engaging and harmless, he says,"We have not shown any nudity, vulgarity and haven't altered the stories. Just added a phone in their hands and shown them using random apps."
But if it indeed does upset so many devout Hindus, why wouldn't ScrollDroll take the post down?
"Our Gods don't need your protection," says Rohit Bose.
Threat on-call
I sent the ScrollDroll co-founder a message on Facebook before calling him. "Give me your number so that I have it saved before you call. I don't take calls from unknown numbers after receiving that threat," he told me.
The threat in question came from a caller who identified himself as Ashish from Indore.
"Hata do nahi to dekho hum kya karte hain," he had said to Bose.
While his partner sees this as good publicity, Bose isn't so sure.
He just has one simple request to make to all those who consume their work on social media.
"People, please take it lightly. Chill a bit."
-- Edited by Abha Srivastava