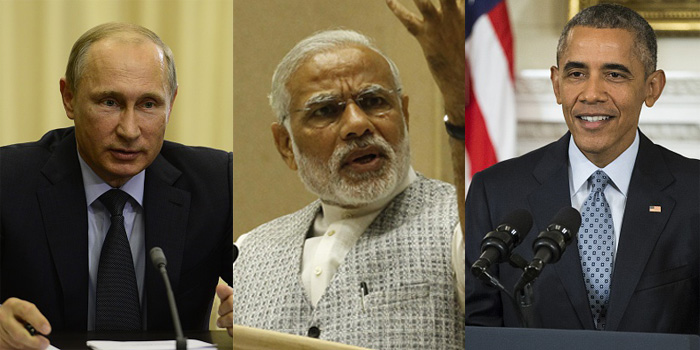 The Forbes Most Powerful People in the World, 2015 list is out. These are the personalities whose actions drive world polity and economy. Forbes drew up the list on the basis of four different criteria -- the expanse of people over whom the candidates wield power, their economic standing, if the candidate wielded power over multiple spheres and most importantly, how actively they exercised their power.
Good news for India is that our Prime Minsiter Narendra Modi figures at the ninth spot. While Forbes praises his international presence and the impact his "brainstorming tour of Silicon Valley" made, it also adds a cautionary line. It says: "Modi must pass his party's reform agenda and keep fractious opposition under control."
Here are the top ten names on the list.
1. Russian President Vladimir Putin (63)-- According to the Forbes website, despite "international sanctions set in place after he seized Crimea and waged war-by-proxy in the Ukraine have kneecapped the Ruble and driven Russia into deepening recession", Putin continued to occupy top stop for the third consecutive year.
2. Angela Merkel (61) -- the vice chancellor of Germany, jumps up from fifth position. Forbes calls Merkel "the backbone of the 28-member European Union". Her decisive actions dealing with the Syrian refugee problem and the Greek credit crisis was another reason that strengthened her position on the list.
3. Barack Obama (54)-- The US President fell one spot on this year's list to 3. According to Forbes, "as Obama enters the final year of his presidency, it's clear his influence is shrinking, and it's a bigger struggle than ever to get things done". His approval ratings at home has sunk under 50 per cent abroad.
4. Pope Francis Roman Catholic Church(78)
5. Xi Jinping (62)
6. Bill Gates (60)
7. Janet Yellen (69)
8. David Cameron (49)
9.Narendra Modi (65)
10. Larry Page (42) of Google.