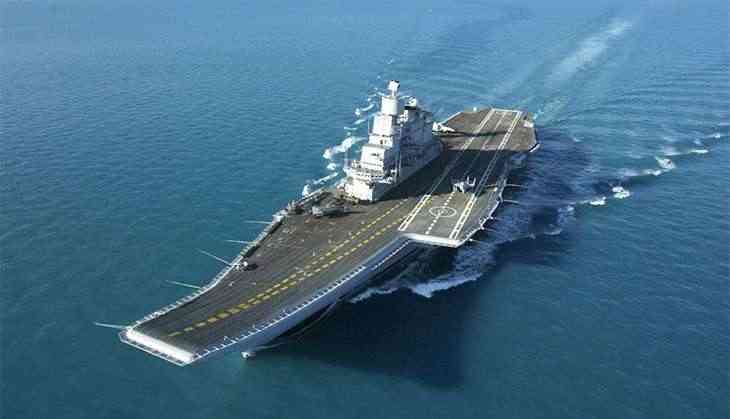 A fire broke out on Indian aircraft carrier INS Vikramaditya on Friday morning due to which a naval officer got killed while saving the lives of other people on board. Nine personnel got injured in the mishap and were rushed to INHS Patanjali hospital in Karwar. They are being treated at the hospital where the condition of five among nine are critical.
Lieutenant Commander DS Chauhan, Indian Navy, who lost his life during fire fighting operations onboard aircraft carrier INS Vikramaditya in Karwar, Karnataka, earlier today. pic.twitter.com/5ixlGvgJUv

— ANI (@ANI) April 26, 2019
The Naval officer who died in the mishap was identified as Lieutenant Commander D S Chauhan, head of fire and safety. While the aircraft was returning to its mother base from the patrolling duties is when the fire was first noticed in the engine room and boiler compartments. The aircraft carrier was supposed to participate in Indian-France joint naval exercise from 1st May to 6th May. As of now, there is no news regarding Vikramaditya's participation in the naval joint exercise.
The 30-year-old naval officer died dousing the flames while saving others lives. However, Chauhan was immediately rushed to naval hospital but could be saved. "Lt Cdr D.S. Chauhan, who was fighting the fire, suffered loss of consciousness owing to smoke and fumes during the firefight. He could not be saved. The condition of some of the injured is critical and they are being treated in the same hospital. The reason for the fire is yet to be ascertained and an inquiry has been ordered into the incident," said a naval officer.
After the accident soon Indian Navy stated that the fire was brought down by the crew members of the ship, no serious damage took place in the ship's combat capabilities. A board of inquiry has been ordered to investigate into the matter. This is not the first time the incident took place on the carrier earlier to this in June 2016, a Navy sailor and a civilian died due to inhaling toxic gas.
Also Read-
Air India flights operation restored after global server shutdown