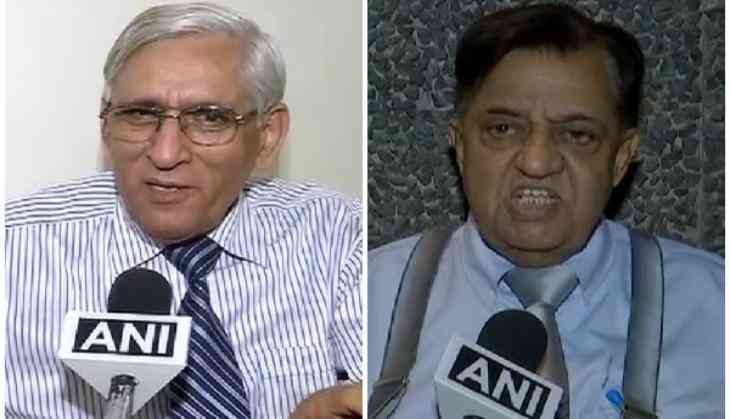 Experts want punitive action against 'liar' Pakistan (ANI)
The Defence Experts on Thursday exhorted the government to take a severe punitive action against Pakistan which 'has been lying over its involvement in the mutilation of two Indian soldiers' bodies.
Defence Expert P. K. Sehgal told ANI that Pakistan was in a denial mode over its involvement in Krishna Ghati's barbaric act despite all the evidence against it.
'We have clinching evidence and same has been conveyed to the Pakistan high commissioner, but we must not waste time in focussing in this area as Pakistan will remain in denial mode. The sooner we teach them a lesson it would be better from both Pakistan's point of view as well as nation's point of view,' said Sehgal.
He said considering the nation's mood, the government must take swift and solid action against Pakistan.
'The entire nation is looking forward to a very swift and a very solid and punitive response from the Indian army. If the government doesn't give a go ahead in a meaningful time frame the government's credibility would be severely degraded,' he added.
Resonating similar sentiments, another Defence Expert Praful Bakshi told ANI that it was obvious that Pakistan will deny mutilating two Indian soldiers' bodies.
'It is obvious that Pakistan will deny carrying out a heinous task of mutilating our soldiers' bodies'. But, the blood trail is leading across. The matter stands still and Pakistan's denial is very serious,' he added. He said India should change its policy of not to attack first as Pakistan was taking advantage of it.
'Pakistan is showing aggression all along the border. Pakistan is taking advantage of Indian policy of not attacking first. We have to change our policy from reactive to proactive. Our intelligence tells us where the terrorists are coming from. India need not wait for the attack but should take pre-emptive action,' he said.
Defence Minister Arun Jaitley yesterday said Pakistan's denial of any cross Line of Control movement by its troops and mutilation of Indian soldiers' carries no credibility.
Jaitley said, 'The denial itself carries no credibility because the entire gambit of circumstances clearly indicates that this barbaric act of first killing two of our soldiers and then neutralising their bodies has been carried out with the active participation of the army.'
'The facts that cover firings are provided to those who carry out this act. They help to escape on such a heavily guarded border where posts are in few meters of each other. This cannot happen without protection, participation or actual indulgence of the Pakistan army itself,' he added.
New Delhi yesterday summoned Pakistan High Commissioner Abdul Basit and lodged a protest against the killing and mutilation of Indian Army soldiers in Jammu and Kashmir.
'Foreign Secretary summoned Pakistan High Commissioner, conveyed India's outrage, demands action against Pakistan soldiers and commanders responsible,' Ministry of Foreign Affairs (MEA) official spokesperson Gopal Baglay said in a tweet.
The Pakistan Army has denied New Delhi's charge of mutilating the bodies of two Indian soldiers and described itself as a highly professional force that never disrespects any soldier.
'Pakistan Army did not commit any ceasefire violation on the LoC or a BAT action in the Buttal sector (Indian Krishna Ghati Sector) as alleged by India. Indian blame of mutilating Indian soldiers' bodies is also false,' the Inter-Services Public Relation (ISPR) said in a statement.
However, the Indian Army in its statement said, 'Pakistan Army carried out unprovoked Rocket and Mortar firing on two forward posts on the line of control in Krishna Ghati Sector. Simultaneously, a BAT action was launched on a patrol operating in between the two posts. In an unsoldierly act by the Pak Army, the bodies of two of our soldiers in the patrol were mutilated. Such despicable act of Pakistan Army will be appropriately responded.'
-ANI