Joy Tirkey
| Updated on: 3 November 2016, 17:50 IST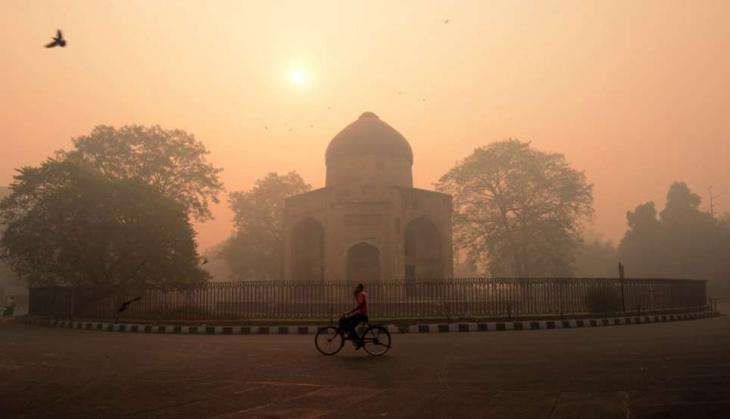 The National Capital Region, on the fourth consecutive day after Diwali, remained under a cloud of smoke and fog resulting in low visibility and hardly any sunlight.
The smog, according to experts and doctors, has crossed the standard air quality level and has now reached hazardous heights. A day after Diwali, people woke up with scratchy throats, thanks to air polluted by particulate matter, courtesy firecrackers from the night before.
The air quality is degenerating daily, jeopardising the health of Delhiites. According to the System of Air Quality and Weather Forecasting and Research (SAFAR), levels of Particulate Matter (PM) touched a record 500 mark on Wednesday, 2 November. The same day, according to the Central Pollution Control Board (CPCB), the AQI touched the figure of 494 in Anand Vihar area. The average AQI rating for Delhi and NCR was 432, or the "severe" category. The safe level is 60.
Asserting that the situation is more than grim, News18 reported that Indian military's top doctor and the honorary surgeon to President Pranab Mukherjee, Lt Gen BNBM Prasad, compared the air quality to nothing less than a death sentence.
Lt Gen Prasad added that Delhi NCR has already crossed Beijing in pollution levels, and the future looks scary.
Catch spoke to Anumita Roychowdhury, Research and Advocacy and head of the air pollution and clean transportation programme at Centre for Science and Environment (CSE), to learn more about the situation:
When asked about the reasons for the increase in levels of pollution and smog as compared to last year, Roychowdhury said:
"There could be various reasons. One of which is the rising traffic pollution. Along with this, the onset of extreme winter conditions have also worsened the air quality. Air is getting trapped which is resulting in the rapid rise of pollution levels."
Citing the reasons for the increasing levels of pollution, Roychowdhury said, "Waste pollution is also playing a role. Construction activity, burning waste all over and the stubble burning from neighbouring states of Punjab and Haryana is causing the pollution level to go up.
"Avoid private vehicles, use public transport and for short distances, one should walk or use bicycles. When it comes to bursting firecrackers, we should resist ourselves from doing so not only during Diwali but also during other social occasions. The government should also take strong measures to fight pollution and whatever the government does, the common people should support the government."
When asked about the state of pollution and smog in the next five years, Roychowdhury said,"It is hard to ascertain but it also depends on how people take up their responsibility and help to curb pollution levels. And in due course of time, a strong time-bound programme will be implemented."
However, this is a small catch list on how to fight the smog:
1. Avoid morning and evening walks till pollution decreases.
2. Reduce exercising in open areas to avoid intake of particulate matter.
3. Always carry a handkerchief to protect your nose against the pollutants.
4. Kids are advised to not play outdoors or limit their sports activities to indoors.
5. Consume lots of jaggery for detoxification and increase intake of citrus fruits.
6. Use of N95 and N99 masks have become of utmost necessary while travelling outdoors.
7. Use of indoor air purifiers can be a possibility to increase good air exchange rate.
8. While in car, ensure frequent air exchange as high CO accumulation may lead to strokes and cardiac arrests in heart patients
9. For ventilation, open your windows/doors only when the sun is bright; the afternoon is the best time.
10. Consult your doctor in case of emergency.
--edited by Aishwarya Yerra