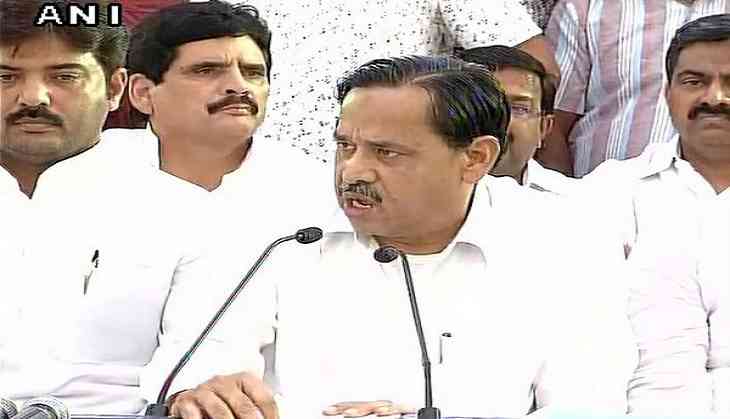 Coming down heavily on Bahujan Samaj Party (BSP) supremo Mayawati, ousted party leader Naseemuddin Siddiqui on Thursday accused the former of labelling the Muslims as 'traitors' after debacle in the Uttar Pradesh Assembly elections.
"After elections in Uttar Pradesh, Mayawati called me to Delhi and asked me why the Muslims did not vote for the BSP? She also said that backward and upper caste also did not vote for us," Siddiqui quoted Mayawati as saying.
Mayawati also said that bearded men are dogs, traitors, Siddiqui claimed.
Siddiqui said he told Mayawati that "Muslims have voted for the BSP but due to the Congress-Samajwadi Party alliance, they got confused and divided. Mayawati disagreed. She abused me and said I was fooling her and said Mussalman dhokhebaaz hain ( Muslims are traitors)."
He further said whatever charges have been levelled against him, applies to Mayawati and that he can prove those with evidence.
Siddiqui further alleged that Mayawati had demanded Rs. 50 crore from him for the party and when he failed to do so, he and his son were expelled on false charges.
"The charges were deliberately framed against me and my son. I will expose it all to you. And if I expose everything then there will be an earthquake. But I will not expose all right now," he added.
Alleging that he was involved in anti-party activities and corruption, the BSP yesterday expelled Siddiqui and his son Afzal Siddiqui from the party.
Siddiqui also accused senior BSP leader Satish Chandra Mishra of playing a role hatching in his expulsion from the party.
Addressing a press conference, Mishra said that leaders of Naseemuddin's constituency were belligerently opposing him due to his lacklustre performance and were demanding his removal from the party for a long time.
"The results of the constituency which was given to Naseemuddin Siddiqui was very poor. The leaders of the areas under his purview (West Uttar Pradesh, Lucknow mandal, Uttarakhand) have been strongly opposing him due to his lacklustre conduct. The leaders of Siddiqui also demanded his removal," said Chandra.
Chandra further accused Naseemuddin of holding anonymous properties and taking money from people in the name of BSP, while adding that despite giving several chances he kept on carrying out anti-party activities.
In a major organisational reshuffle last month, Mayawati ousted Siddiqui as Uttar Pradesh chief and appointed him in-charge of Madhya Pradesh.
The BSP in the recently concluded Uttar Pradesh Assembly elections faced a humiliating defeat.
The party managed to secure only 19 seats out of the total 403 seats.
In the 2014 Lok Sabha elections, the party failed to win even a single seat.
-ANI