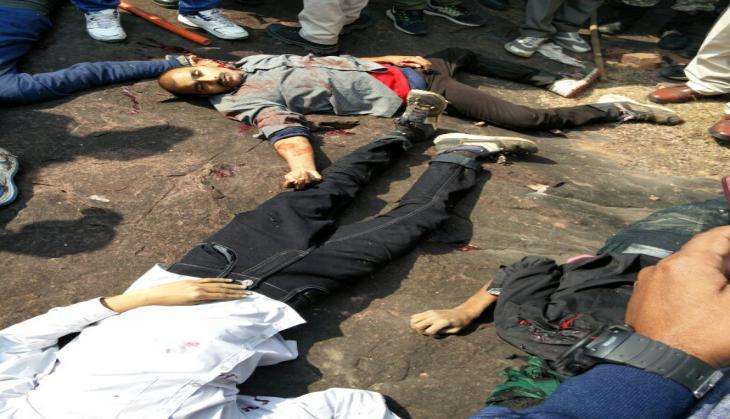 SIMI activists' 'encounter' Photo: ANI
Eight SIMI activists on 31 October, were killed in an alleged police encounter following a daring prison break from the high-security Bhopal Central Jail, after murdering a prison guard.
While the Madhya Pradesh Police defended its action to open fire on the SIMI activists, the members of the opposition have questioned the authenticity of the "encounter" while dubbing the encounter as "fake".
The entire episode has also raised numerous questions regarding the security of the jail premises at the same time.
Here's the timeline of the how the entire SIMI activist encounter unfolded:
- Eight activists of the Students of Islamic Movement of India (SIMI) escaped at around 2-3 am by fashioning a rope out of bedsheets to jump over the walls from the Bhopal Central Jail after killing the guard by slitting his throat with steel plate and glass.- The Home Ministry asked the Madhya Pradesh government to send a detailed report about the jail break, whether there was any lapse on the part of the jail administration and the steps taken to check such incidents.
-Five officials suspended after the shocking jailbreak.
-High alert has been sounded on 31 October following a jail break by SIMI activists in Bhopal.