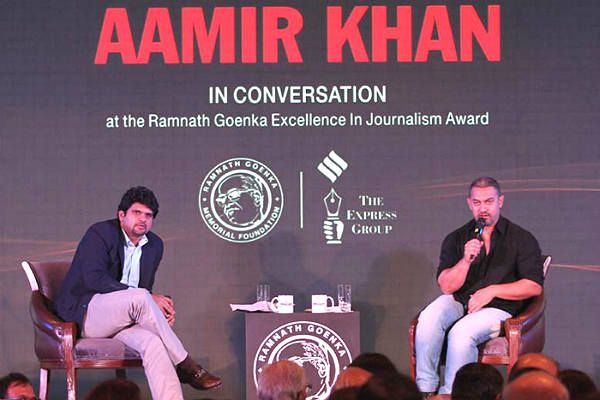 Be it on prime-time or on social media, Aamir Khan's comments on increasing intolerance in the country has got everyone expressing their outrage.
But here's a question. How many of you have actually listened to what he has said.
Since, the debate on what the actor-producer said at the Ramnath Goenka award ceremony on 23 November refuses to end, we took out some time putting out this video and the word to word transcription of what he actually said. For debate is good, only when it is informed.
And watch it here:
Here is a transcript of the conversation between The Indian Express Wholetime Director, Anant Goenka and Aamir Khan.
Anant: Aamir, are you agreeing with the protest or do you think it's called for. do you think it is premature?

Aamir: Well, I think, if I am not mistaken there are so many people in this room who are much more knowledgeable than me so I am feeling intimidated to speak in front of all of you. But my understanding is that a lot of people from the creative fraternity are protesting because of the growing discomfort they felt or the growing atmosphere of intolerance that they felt around them. growing sense of insecurity and disappointment with that, and as a result that was their way of showing that they are not happy with the situation.

As an individual myself, as a part of the country, as a citizen, we read in newspapers what's happening and certainly I have also been alarmed. I can't deny that I am alarmed.. by a number of incidences.

For any society it is very important to have a sense of security. I mean there will be acts of violence in world for different reasons. But for us as Indians, as a part of society to have a sense of security. two-three things are very important, I feel. One is sense of justice.

If there is a wrong step that anyone takes, then a correct justice is what is required. Common man should feel that justice will be done. That's what gives a sense of security. The second and very important sense of security is the people who are our elected representatives - people who we select to look after us for five years if at state level or Centre.

When people take law in to their hands and when there is a sense of insecurity, we look upon these people to take a strong stance, make strong statements and speed up the legal process to prosecute cases. When we see it happening there is a sense of security but when we don't see that happening there is a sense of insecurity.

So it does not matter who the ruling party is. It's happened across ages. On television debates, we see where one political party, in this case, the BJP which is ruling right now, is accused of various things. They said, 'But what happened in 1984?'.

But that doesn't make right what's happening now. What happened in '84 was disastrous and horrendous. At other times also, through ages, whenever there is a violent act, when an innocent person is killed, be it one or a large number, that's very unfortunate. And these unfortunate moments are the ones when we look towards our leaders to take a strong step. Make statements that are reassuring to the citizens.

Anant: you know but..

Aamir: To complete my answer that there is a sense of fear more than there was earlier. I do feel there is a sense of insecurity. When I sit at home and talk to Kiran. (Wife) Kiran and I have lived all our lives in India. For the first time, she said, should we move out of India? That's a disastrous and big statement for Kiran to make to me. She fears for her child.

She fears about what the atmosphere around us will be. She feels scared to open the newspapers everyday. That does indicate that there is a sense of growing disquiet. growing sense of despondency. You feel depressed, you feel low.. why is it happening? This feeling exists in me too.
You can read the entire interview on The Indian Express.
So, the next time anyone misquotes Aamir Khan while indulging in a high decibel fight on "whether or not he should leave the country", you can always share this article.