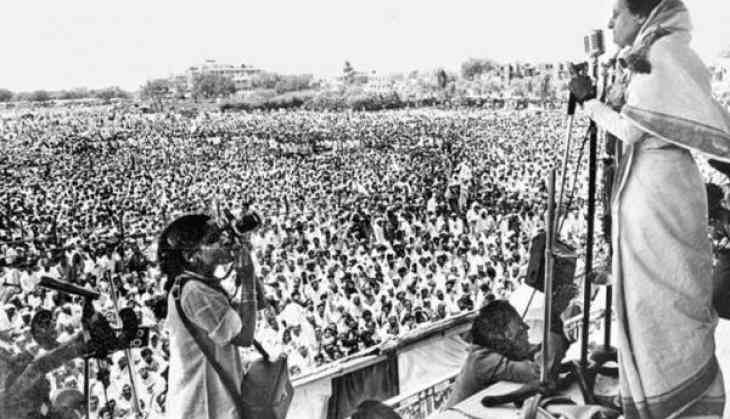 It has been 42 years since the day when India witnessed one of its darkest phases since Independence when the then Prime Minister Indira Gandhi declared an emergency across the country in 1975.
The state of emergency was formally issued by then President Fakhruddin Ali Ahmed under Article 352(1) of the Constitution for "internal disturbance."
Earlier in the morning, Prime Minister Narendra Modi reminded people that today was the 42nd anniversary of the declaration of emergency across the country during his 33rd ' Mann ki Baat' radio address to the nation.
"The Emergency will be remembered for the way in which people of India came together and safeguarded democratic values. Democracy is not only a system, but also our ethos as-'Eternal vigilance is the life of liberty'. We need to remember the things which harm democracy and move forward in a positive direction. Those who love democracy can never forget the dark night of June 25, 1975, when the entire nation turned into a prison, all voices of dissent were muzzled, where senior leaders like Jayaprakash Narayan were imprisoned. Not even the judiciary was spared from the shadow of authoritarianism," Modi said.
Here are the essential facts that you should know about the emergency:
- It was the 3rd time in the historical backdrop of independent India that emergency was declared. The other two times were in 1962-1968 (India-China war) and 1971 (India-Pakistan war).
- Duration: 21 months, from June 25 1975 to March 21, 1977.
- Around 10 lakh people were sterilised forcibly.
- According to a report of International human rights organisation 1,40,000 people were jailed without trail and 22 custodial deaths were reported.
- Indira's Congress before emergency won 352 seats in Lok Sabha in 1971, the number was reduced to just 153 seats after the emergency.
- During the Emergency, Indira Gandhi introduced a 20-point economic programme to improve industrial and agricultural production and fight poverty and illiteracy.
- It was a phase when censorship was imposed on press and various political leaders got arrested.
- State and parliamentary elections got postponed during this period.
- Indira Gandhi, during the emergency, rewrote the laws. According to her, the existing laws were too slow. Indira Gandhi was extremely criticised for her actions.
- Post the emergency, the first Lok Sabha Elections that took place in 1997 resulted in Janata Party's win.