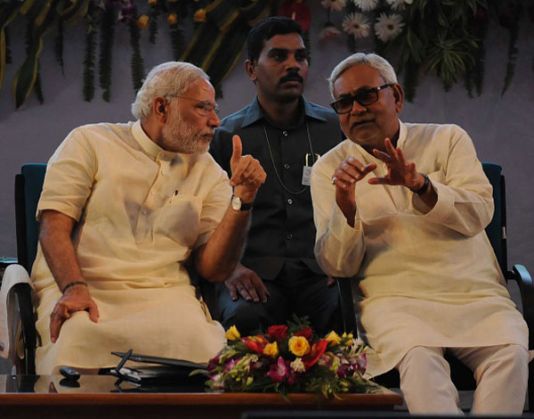 Bihar Chief Minister Nitish Kumar held a press conference right after Prime Minister Narendra Modi wrapped up his election rallies in the state and announced a massive financial package of Rs 1.25 lakh crore for the state. Here are the top ten things that Kumar said to counter Modi --
1. First PM Narendra Modi calls me a beggar and then he calls me arrogant. That's contradictory.
2. For the development of Bihar, I have no problem in being a beggar.
3. He is the Prime Minister of the country. He talks of federalism. But doesn't respect the states.
4. Health, education, roads everything has been improved.
5. We have created 66,000 roads, 5,000 bridges/flyovers.
7. The health parameters of the state have improved. Average people visiting primary health centres monthly has gone up from 49 people to 11,000.
8. The money that was allocated in the 10th and 11th five year plans has been utilized. I can give you the details if you are interested.
9. We were worried that we have been spending money on development but funds were not released from the Centre.
10. The PM says if the state is not BIMARU, then why are you asking for help? All the other states which have been given a special status for development, given funds are BIMARU?
11.Instead of encouraging a state that is progressing, you are humiliating it?
12. The way he was speaking and saying 50 crore,60 crore..was it some sort of auction? Was he auctioning Bihar?