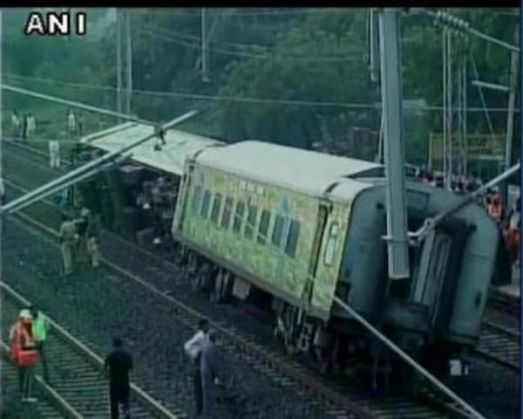 At least two passengers died and seven people were injured after nine coaches of Duronto Express derailed in Karnataka on the morning of 12 September.
Nine coaches of 12220 Secunderabad-Lokmanya Tilak Terminus Duranto Express derailed at Martur station near Gulbarga at 2: 15 am today on Solapur Division of Central Railway blocking Up and Down lines on Wadi-Gulbarga section.
As per the Central Railway's statement, coaches B-7, B-8, B-9, Pantry Car, H-1, A-1, A-2, A-3 and Generator Car got derailed and 46-year-old Jyoti and 28-year-old Lata, who were going from Hyderabad to Pune, lost their lives in the incident.
It further read: "Injured have been rushed to the nearest hospital at Gulbarga, Brake Down trains from Solapur, Daund and Wadi have been rushed to the site and senior railway officers have reached the site to oversee the restoration work."
Addressing the incident, Railway Minister Suresh Prabhu took to Twitter to inform that he had ordered an inquiry into the incident.
"Saddened by Duranto accident. Ordered inquiry. Immediate medical relief and other assistance rushed. Chair Rail board asked to rush," he wrote in a series of tweets.
"All injured being rushed to hospitals and treated by medical team. We give ex-gratia to injured, unfortunate families of dead. monitoring it. All possible assistance is provided to all affected, all being rescued. Very unfortunate for this. Cause investigated to take action,(sic)" he added.
--ANI