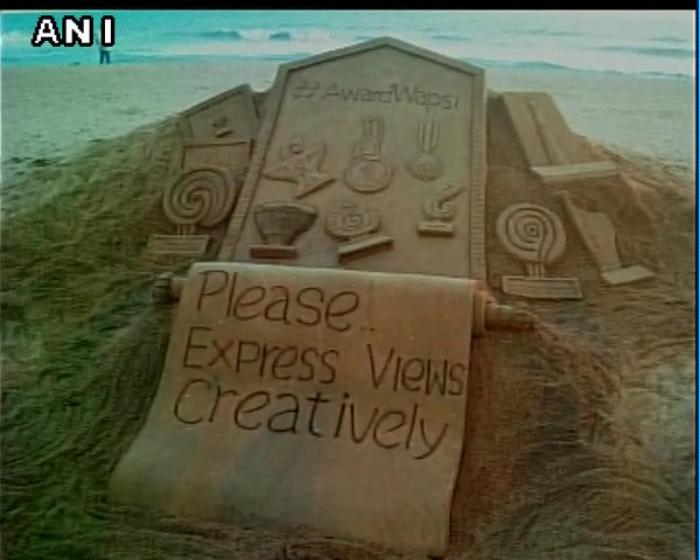 Sudarshan Pattnaik, the popular sand artist from Odisha who was awarded a Padma Shri in 2014, has spoken up on the issue of award returning by eminent personalities against 'growing intolerance' in the country.
He appealed to all artists to express their views creatively and not to return awards as he believes returning award is not a way to protest against the 'atmosphere of intolerance' in the country.
"Expressing intolerance should be done creatively, but returning award is not right. Award is an honour. Don't return awards, please express your views creatively," Pattnaik told ANI here.
"I don't think returning award is necessary. I am not in favour of it. Many types of people reside in India, so I think a wrong message is going out," he added.
Pattnaik further insisted that he won't return his Padma Shri award.
"I would appeal not to return awards. If anyone is getting hurt, blaming or returning award will not help," he said.
Pattnaik created a sand sculpture on the issue with a message 'Please express views creatively' at Puri beach of Odisha.
Historians had earlier joined writers, filmmakers and scientists in growing protests against what they called a "climate of intolerance".
Top scientist P. M. Bhargava had earlier said he would return his Padma Bhushan award, alleging that the NDA Government at the Centre was trying to make India into a "Hindu religious autocracy".
About 53 historians, including Romila Thapar, Irfan Habib, K N Pannikar and Mridula Mukherjee have criticised Prime Minister Narendra Modi for not issuing a "reassuring statement" to allay the concerns over what they called a "highly vitiated atmosphere" prevailing in the country.
Earlier, filmmakers, including Dibakar Banerjee and Anand Patwardhan, returned various government awards and honours they have received to express solidarity with FTII students.
Before them, 33 Sahitya Akademi awardees had returned their awards in protest against what they perceived to be a growing atmosphere of intolerance in the country under the leadership of Prime Minister Modi.
-ANI