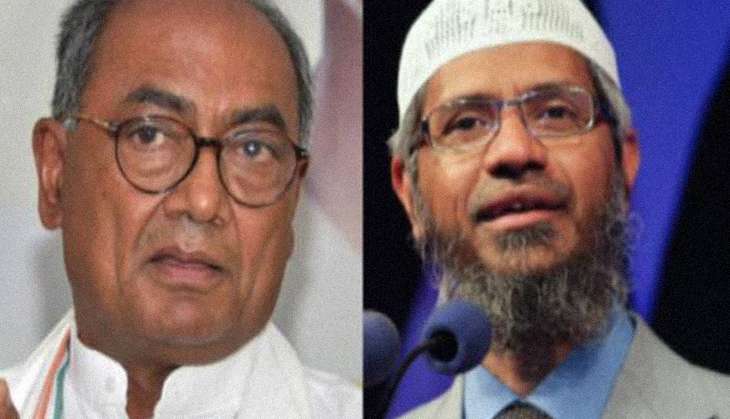 Congress leader Digvijaya Singh finds himself in the middle of an unwitting controversy because of the praises he heaped on Mumbai-based Islamic preacher Zakir Naik, in 2012.
This comes in the wake of the attack on Dhaka's Holey Artisan Bakery, on 1 July, in which five Bangladeshi militants killed 20 hostages. It has been widely reported by the media that two of the five Bangladeshi militants were influenced by Naik.
In the 2012 video that is doing the rounds on social media now, Digvijay Singh is heard thanking Naik for inviting him to speak at one of his meetings. He also thanks him for spreading the message of peace across world. "Main Dr Zakir Naik saab ka bahut abhari hu. Mujhe kabhi itni bari mehfil mein kabhi bolne ka mauka nahi mila, isliye aapko main bahut bahut dhanyawaad dena chahta hu...wo shanti ka sandesh pure vishwa me phaila rahe hain."
The statement could blow up into a major political controversy. The BJP has already reacted to the video. BJP national spokesperson Nalin Kohli said: "Everything is in the public domain, if Digvijaya Singh is seen praising him then he'll have to come out with a clarification."
Singh took to Twitter to clarify his stand and called for action to be taken against Naik if the Bangladeshi government found any evidence of his involvement with the ISIS.
My speech at conference organised by Zakir Naik is being shown. I spoke against Religious Fundamentalism and appealed for Communal Harmony.

— digvijaya singh (@digvijaya_28) July 7, 2016
The conference was for Communal Harmony and against Terrorism. Also to explain that Islam is against Innocents being killed.

— digvijaya singh (@digvijaya_28) July 7, 2016
If GOI or the Govt of Bangladesh has any evidence against Zakir Naik's involvement with ISIS they should take action against him.

— digvijaya singh (@digvijaya_28) July 7, 2016
Naik has always been controversial
Naik, a controversial yet popular Islamic televangelist, reaches out to people through his channel Peace TV. Militant Rohan Imtiaz, son of an Awami League leader, posted on Facebook last year quoting from peace sermons where Naik is heard "urging all Muslims to be terrorists", The Daily Star reported.
Naik is hugely popular in Bangladesh through his Peace TV, even though what he preaches is often demeaning towards other religions as well as other Muslim sects, the report said.
In a 2007 video, Naik is heard saying:
"If he (Osama bin Laden) is fighting the enemies of Islam, I am for him. If he is terrorising the terrorists, if he is terrorising America, the terrorist, the biggest terrorist, I am with him. Every Muslim should be a terrorist."
However, Mansoor Shaikh, the manager of Islamic Research Foundation, which is a Mumbai-based organisation floated by Zakir Naik, denied that Naik had endorsed terrorism in his speeches.
On Wednesday, Shiv Sena lawmaker Arvind Sawant said he had written to the Union Home Minister, demanding a ban on Naik and the Islamic Research Foundation, in the country's interest.
"People whose language propagates violence against the nation's unity should be banned," Sawant said in the letter.
"Islam teaches love and peace. But every day is a day of high alert now. I appeal to the Home Minister that action needs to be taken," he said.
With inputs from PTI