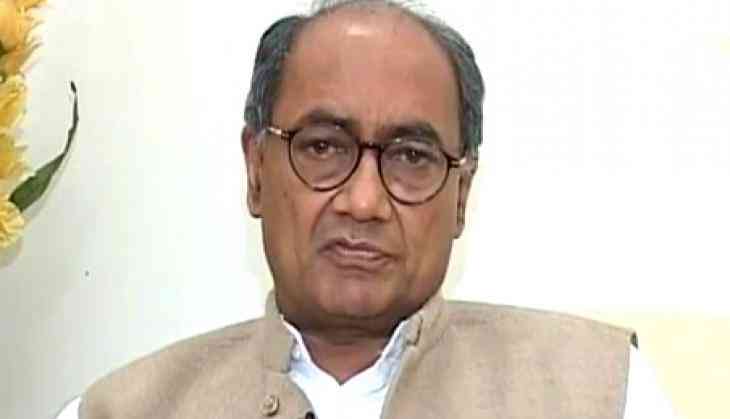 Former Madhya Pradesh Chief Minister Digvijay Singh following a footstep of party's senior leader Mani Shankar Aiyar took low potshots at the Prime Minister Narendra Modi ahead of the seventh and final phase of polling. The senior Congress leader attacking PM Modi called him nalayak' (useless) and 'shani' (bad omen) while addressing public meet in Madhya Pradesh.
Taking a shapr jibe at the Prime Minister and the Bharatiya Janata Party's pro-Hindutva stand, Digvijaya Singh said , "Desh ko chalana hai toh sabko saath lekar chalna padega... Hindu, Muslim, Sikh, Isai – sab iss desh ke nagrik hain... Kehte hain 'Hindu dharm khatre mein hai'... Arey nalayakon, 550 saal Musalmanon ka raaj raha, humare dharm ka kuch nahi bigda, toh ab kya bigdega? Humara dharm kya itna kamzor hai jo kisi ke kehne se bigad jayega?"
Speaking at an election rally in the poll-bound state, Singh continued his jibe at the Prime Minister and called him a bad omen and that 'shani's effect' is going to go away from the country after May 23, referring to the debacle of BJP in the Lok Sabha election and ousting from the Centre.
Congress leader's comments came a day after the former Union minister Mani Shankar Aiyar justified his "neech" jibe against PM Modi that he made two years ago, and calling him the most "foul-mouthed" prime minister the country has ever seen.
Digvijay Singh is contesting from Bhopal Lok Sabha constituency seat on Congress ticket. The Bharatiya Janata have pitched Sadhvi Pragya Thakur, a 2008 Malegaon blast prime accused, against him.
The seventh and the final phase polling is scheduled on May 19 and the counting of votes will be done on May 23rd.
Also read: Mamata Banerjee blasts at BJP and EC; calls Kolkata violence worse than Babri Masjid demolition