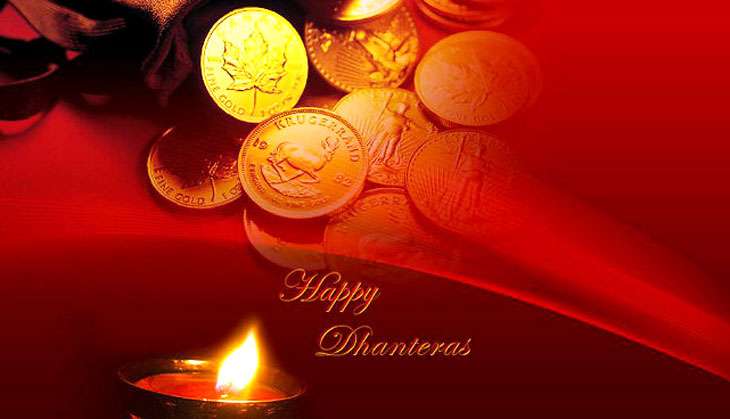 Dhanteras is being celebrated today, to mark the first day of Diwali festivities.
It is time to worship the goddess of wealth - Lakshmi - by buying gold, silver or utensils. The God of Death, Yama, is also worshiped today. The festival of Dhanteras marks the beginning the five-day Diwali festivities. Diwali is celebrated just a day after Dhanteras.
It is considered important that the Goddess is worshiped at the given auspicious time. This year, the muhurat for the Dhanteras Puja will begin at 5:35 pm and will continue till 6:20 pm.
Also known as Dhanatrayodashi, there are many ways of celebrating this occasion. While some people buy gold, others opt for utensils.Those who celebrate Dhanteras believe that worshiping Lakshmi and buying metal on this day will bring prosperity and good luck for the entire family.
People in different regions of the country decorate their homes and often draw rangolis to welcome the Goddess into their homes. Lighting diyas to fight evil energies and kill the darkness is another way of observing Dhanteras.
The newly bought items (gold, silver, utensils) are kept near the deity while offering prayers to Goddess Lakshmi and Lord Yama along with wheat, urad dal, moong dal, gram, barley and masoor dal.
Why is Dhanteras celebrated?
According to legend, it was forecast that the son of King Hima would succumb to snake-bite on the fourth night into his marriage. His wife, however, thwarted the plans by making a heap of all her gold jewellery along with coins at the entrance.
On the fourth night, she sang melodious songs.
Lord Yamaraj, who came in the form of a serpent to kill the prince, was mesmerised by her voice. He was also blinded by the gold's glare and obviously, couldn't kill the prince. The prince lived and a legend was born!
Dhanteras is celebrated every year to celebrate this tale of fortune.
Happy Dhanteras!