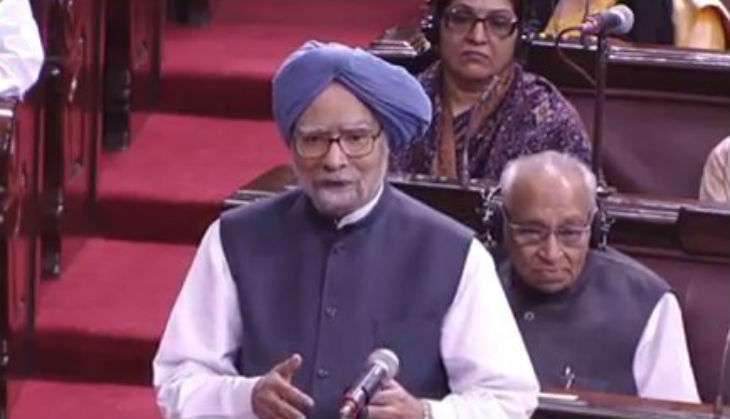 Prime Minister Narendra Modi attended the Rajya Sabha on 24 November. The Parliament Winter Session began on 16 November and had been witnessing continuous uproar since day 1. The Opposition has attacked PM Modi over his absence from the House.
Updates:
03: 09 pm: Rajya Sabha adjourned for the day
03: 06 pm: Uproar in Rajya Sabha as Opposition demands PM's presence in the Parliament.
03: 05 pm: Leader of the House has said that PM will participate in the debate; we must let the House function: BJP leader MA Naqvi in RS.
02: 25 pm: There was mostly noise and no substance in what the Opposition has been saying: FM Arun Jaitley
02: 23 pm: Those parties who were once a part of every scandal in the country are now opposing Demonetisation: FM Arun Jaitley
02: 22 pm: First day it was a debate without any pre-conditions, from next day they started putting unreasonable conditions and it continues: Arun Jaitley
02: 21 pm: Opposition thinks Demonetisation is a blunder. Don't they think Commonwealth and 2G was a blunder? : Arun Jaitley
02: 20 pm: Opposition ka pramukh prastav tha ke PM charcha me rahen or fir unhone bahane dhundne shuru kar diye, said FM Arun Jaitley addressing media on RS uproar (Opposition demanded PM Modi to be present during debate and then they started making excuses.)
02: 11 pm: Rajya Sabha adjourned till 3 pm.
02: 10 pm: Opposition raises slogans and create commotion in RS following PM Modi's absence in the House.
01: 30 pm: Aaj vipaksh ko achi safalta mili hai lekin poori kamiyabi nahi mili, abhi PM ka bolna baaki hai: BSP Chief Mayawati addressing media outside parliament.
01: 01 pm: Rajya Sabha adjourned till 2 pm.
01: 00 pm: No one disagrees with your objective. The way you have implemented it is not correct. People are suffering in villages. It is completely wrong that over 90 per cent support your move: Bahujan Samaj Party chief Mayawati.
12: 53 pm: Mr PM ji with all due respect, anybody who opposes your policy is not in favour of black money, they are not anti-national.
12: 50 pm: The government has a mindset problem. You once again conducted a poll on WhatsApp saying 93% are happy - who are these 93%?
12: 42 pm: TMC leader Derek O'Brien says that different people have reacted differently since the announcement was made. Some people who were part of the announcement, have quoted Bob Dylan. They have also done polls on their mobile app to say 93% agree with them. The demonetisation announcement has hurt everybody.
12: 30 pm: Everybody likes praise. But praise should not turn into sycophancy. When former PM Indira Gandhi imposed emergency, she got feedback that the people supported it, but when the elections happened it revealed the reality. This (Demonetisation) is the second emergency, a financial one. Decisions like this have been taken by dictators in other countries in the past: Naresh Agrawal.
12: 22 pm: Samajwadi party is against the demonetisation move: Naresh Agrawal.
12: 20 pm: Samajwadi Party leader Naresh Agrawal addresses the House.
12: 15 pm: Lok Sabha adjourned for the day following commotion over demonetisation.
12: 15 pm: Those who say demonetisation is good in the long run should recall quote "In the long run we are all dead: Manmohan Singh.
12: 14 pm: I hope that PM will help us find practical ways to give relief to people suffering: Manmohan Singh.
12: 13 pm: Monumental mismanagement has been undertaken in implementation of DeMonetisation: Manmohan Singh.
12: 12 pm: Cooperative banking sector which is serving large number in rural sector is not operational: Manmohan Singh.
12: 11 pm: PM must come with some constructive proposal how we can implement the scheme: Manmohan Singh.
12: 10 pm: "Take note of those suffering from demonetisation... Over 60 people have lost their lives because of this... What about those in the farming sector? The demonetisation will affect the people's belief in the currency system," Singh says.
12: 09 pm: Former prime minister Manmohan Singh leads
Congress
' charge against demonetisation.
12: 05 pm: Debate on demonetisation in Rajya Sabha begins.
12: 00 pm: Rajya Sabha resumes. PM Modi is present in the House.
11: 47 am: Opposition has made it very clear that PM has to come, If PM is running away from the debate then what is the point of meeting Home Minister: Anand Sharma.
11: 45 am: Former PM Manmohan Singh made a request to speak, which speaker allowed. He was stopped by Finance Minister and ruling party leaders. It is shameful: Anand Sharma.
11: 43 am: There is financial chaos after the decision taken by PM Modi, opposition is right in asking PM to explain and clarify: Anand Sharma (Congress) outside parliament.
11: 40 am: Parliamentary Affairs Minister Ananth Kumar and MoS Parliament Affairs S S Ahluwalia met Lok Sabha Speaker Sumitra Mahajan over papers thrown at her.
11: 17 Rajya Sabha adjourned till 12 pm.
11: 14 am: We want to move privilege motion against PM Modi for speaking outside the House was on: Congress leader Anand Sharma in Rajya Sabha.
11: 10 am: Lok Sabha adjourned till 12 noon following uproar.
11: 09 am: Samajwadi Party leader Akshay Yadav tore paper and threw it at the speaker in Lok Sabha.
11: 08 am: If it is on demonetisation issue, let Opposition resume the debate and Dr Manmohan Singh speak: Finance Minister Arun Jaitley in RS.
11: 07 am: The ex-prime Minister (Manmohan Singh) would like to say something: Congress leader Ghulam Nabi Azad in Rajya Sabha.
10: 59 am: The survey (PM Modi's app survey about demonetisation) is fake and sponsored, says BSP Chief Mayawati.
10:40 am: Uttar Pradesh Chief Minister Akhilesh Yadav arrives in Parliament to meet PM Narendra Modi.
10:35 am: Opposition parties decide in their meeting to not hold talks with the government till 28 November, reported ANI.
10:30 am: Meeting PM Modi's chamber in parliament begins. Union ministers Manohar Parrikar, Arun Jaitley and Venkaiah Naidu are present in the meeting.
10:15 am: Opposition leaders meet in Parliament.