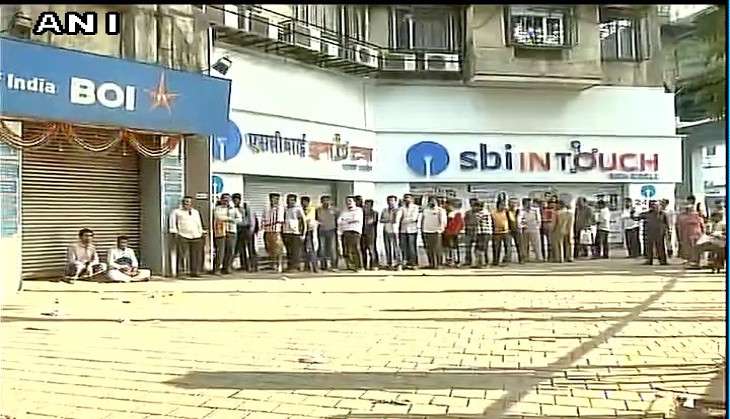 Facing a shortage of cash since the last two days, people in the country's financial capital and its suburbs rushed to ATM counters today, only to witness serpentine queues.
ATMs of various banks in south Mumbai, Lalbaugh, Parel, Dadar, Andheri, Ghatkopar and Mulund were out of service and not dispensing money, forcing people to return empty-handed.
Early in the morning, shutters of some ATMs of State Bank of India, Lakshmi Vilas Bank, HDFC Bank, Bank of Baroda, Yes Bank and Dena Bank in suburban Mulund in Mumbai were down, while some went dry.
Ajeet Singh, a media professional, said when he went to an ATM in suburban Andheri, he found it closed. On enquiring with a bank executive, the latter suggested that he return after an hour or two.
"But when I went to exchange demonetised notes with new ones, I was told that the bank has not received the money yet and it would start exchanging it at 4 pm only," he said.
After finding some ATMs in the megacity not dispensing cash, Charles Asirvatham, a senior executive of a Malaysia-based company took the twitter route to express his problem.
Sanjay Dubey, an executive working with a garment outlet and staying in Kalyan township of neighbouring Thane district said, "I approached an ATM in suburban Kalyan around 8.30 am but it was shut. I hope the government will take some corrective measures soon."