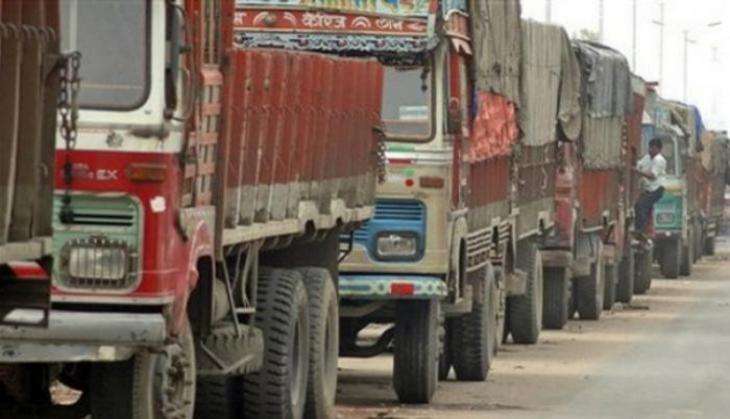 The demonetisation announcement has brought the country's transport sector to a standstill. According to the national transportation body AIMTC, around seven lakh trucks have been stranded on highways across India since the 8 November announcement.
This has, in turn, affected the supply of essentials like milk, vegetables, fruits, pulses, grains, medicines and other goods.
The road transport sector, which is one of the highest contributors to the GDP ( approx. 4.8%), is facing its worst crisis in recent times with the banning of Rs 1,000 and Rs 500 currency notes as the transport operations are almost 80% cash based.
The drivers, who are en route, do not have enough cash in their hands and are feeling the pinch as they cannot afford food and other essentials commodities due to the present scenario.
Also Read: Why is there no investigation against PM Modi's industrialist friends, asks Rahul Gandhi

"The drivers are starving without food on the highways. What will happen if those who provide food to people are not fed? They can't be driving on an empty stomach," Bhim Wadhwa, president of All India Motor transport Congress told Catch.
"We support Prime Minister Narendra Modi's move to curb black money, but the government should have acknowledged the side effects before implementing it," he added.
With acute liquidity crisis and financial crunch, the transportation services (both cargo and passenger segment) in the country have come to a standstill.
"The export-imports of the country will also suffer due to disruption in movement of vehicles to and from the Ports, raw materials to the industries and finished goods to the distribution centres, will also get affected," said the AIMTC statement
What is AIMTC demanding from the Union governmnet?
In a letter to the Minister of Finance, Arun Jaitley, AIMTC points out that the limit of Rs10,000 per day and maximum of Rs 20,000 per week is minuscule, making the transportation business unsustainable.
AIMTC made the following demands:
Limit on withdrawal of accounted money should be increased sufficiently, as 80% cost of the transport operations is cash based.
For vehicles in transit, old currency notes must be accepted at petrol pumps, Borders & RTO offices for payment of Taxes Penalty and Permits for cargo and passenger vehicles for at least the next 14 days.
Tolls plazas should be made free for at least the next 14 days expecting that by then normalcy in free flow of currency and short change would be restored.
Dhabas and restaurants on the highways be directed to accept old currency notes from drivers and the tourists who are en route as they are starving without food on the highways with no help forthcoming from any quarter.