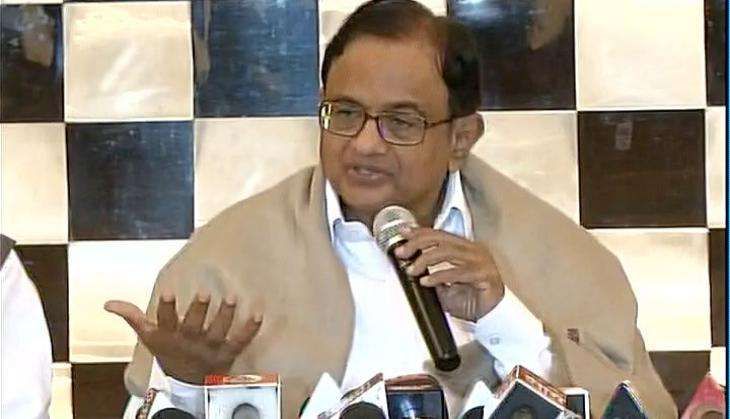 Congress leader and former finance minister P Chidambaram on 13 December lashed out at the Central government and said the demonetisation initiative is "the biggest scam of the year". Additionally, he demanded for an investigation of the note ban.
"This is the biggest scam of the year and must be investigated. What is the justification for introducing 2,000 rupee note? I cannot get a Rs 2,000 note. How have crores in Rs 2,000 notes found their way to individuals being raided all over the country? What calculations did the government do to say that one can withdraw Rs 24,000 a week when banks don't have enough cash to dispense," Chidambaram said.
"Every bank says- no cash. So how is the government saying there is cash? This is why Dr Manmohan Singh said this is monumental mismanagement. Why are district cooperative central banks kept out of this whole exercise? Keeping out district cooperative central banks is punishing farmers. There is no money for them to buy supplies," he added.
Chidambaram asserted that due to the demonetisation drive, farmers are suffering as there is no money to buy seeds, hire labour and buy fertilisers.
"45 crore people are dependent on daily wages. (they have been affected by demonetisation )Who is going to compensate them? Every major economist, newspaper in world has said that this is the most absurd of moves by the government," he added.
Chidambaram also defended the Opposition's strategy in Parliament questioning why the Prime Minister should not be present in the House when a debate on demonetisation is on.
"How is it an unreasonable demand? Why shouldn't the PM be present in the House when we are discussing demonetisation? He should listen to us," he said.
"This is an absurd move by the government. No one has any good word to say on this. Goal posts are shifting. It is no longer about black money now they have found a new one called cashless economy," he added.
"Yesterday a leading RSS spokesman said that Rs. 2,000 notes should also be withdrawn...won't be surprised if they do that. Which country has cashless economy? Does U.S.? Does Singapore have it? Where is electricity in country? Where are the machines? It has broken the back of poor people, a case of khoda pahad nikli chuhiya," Chidambaram said.
He added that if the government had to withdraw higher denomination note it could have done so in the course of one year.
"I went for a wedding the other day, saw that the rich are not affected. It is the poor who are hurt. Has this stopped corruption, black money? The objective is not being served by this. Only poor people are being punished," he added.
The senior Congress leader also said that the long term impacts will be negative in terms of GDP figures, adding that even RBI's low projection shows it.
"Most economists say 1-2 percent negative impact. I believe people will not forget for what is being done to them and will certain not forgive the govt for it. Just because people are not protesting in the manner you are suggesting that does not mean that they are condoning what government is doing," he added.