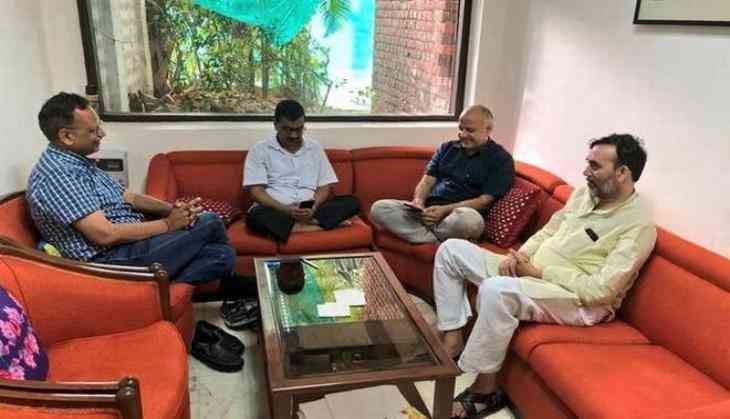 Delhi Deputy CM Manish Sisodia, who was on a fast protest at LG Anil Baijal's official residence has been discharged from LNJP hospital. He was admitted yesterday after his ketone level reached 7.4. Sisodia was on an indefinite hunger strike for the past 7 days at LG's residence against the alleged strike by the IAS officers of Delhi government.
AAP Chief and Delhi CM Arvind Kejriwal's sofa protest at the Delhi Lieutenant Governor's house will now have half its ministers. Two of his ministers, Manish Sisodia and Satyendra Jain were admitted at the hospital due to a medical emergency. They will resume work today after being released from the hospital, where they were treated yesterday after their condition worsened because of their fast protest.
Mr Sisodia announced his recovery on Twitter before getting discharged. "With doctor's care and your blessings, I am recovering fast," he tweeted.
"Yesterday (Monday), my ketone level was 7.4 and BP reached 184/100, which was leading to renal failure. But now everything is under control. If doctors allow I'll try to be back to work today only," he said.
Chief Minister Arvind Kejriwal and his another minister Gopal Rai are still at Lt Governor Anil Baijal's home Raj Niwas continuing their protest. CM Kejriwal tweeted: "The Lt. Governor could not find eight minutes in eight days for the people of Delhi. Hope he finds some time today."
Also read: AAP Dharna: Delhi Deputy CM Manish Sisodia on protest fast at LG's house rushed to the hospital, says Arvind Kejriwal