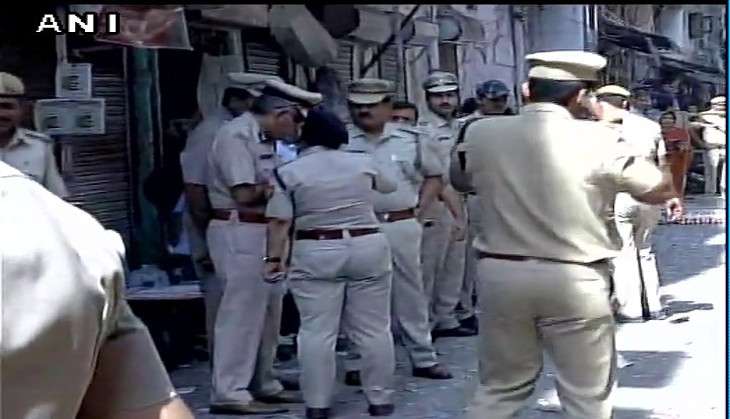 Blast in Chandni Chowk area delhi (Photo: ANI)
At least one person has been killed and two reportedly injured in an explosion in Delhi's Chandni Chowk area on 25 October. The incident has reportedly taken place in Chandni Chowk's Naya Bazar area.
Initial reports suggest it was a cylinder blast. However, according to reports the blast was due to fire crackers. The explosion took place around 10.40 AM when Motalip Mirza, a labourer, was carrying two large packets of crackers. A CCTV footage of the incident shows that the blast occurred as Mirza put the bags in front of a shop, Saraswati Traders in the Pattewali Gali, police said.
"The cracker blast took place due to high pressure and the huge quantity of crackers. Mirza died in the explosion while four others were injured," said a senior police officer.
Cracker blast took place in Lahori Gate area when a labour Motalip Mirza was carrying two bags of crackers. Handle crackers carefully.

— Spl CP L&O North (@splcpnorthdelpo) October 25, 2016
Several specialised teams of Delhi Police, including forensics, officers from the Special Cell and the SWAT teams, swooped down on the area after the blast to ascertain if there was any terror angle in it.
However, on the basis of preliminary investigation they have ruled out any terror angle.
SBK Singh, special commissioner of police (Law and Order) North, tweeted, "Cracker blast took place in Lahori Gate area when a labour Motalip Mirza was carrying two bags of crackers. Handle crackers carefully."
"Prima facie it looks like a firecracker explosion in a jute bag" Virendra Chahal, Jt CP Northern Range told the media.
Fire tenders have rushed to the spot. Additionally, police have also reached the crowded market to take the stock of the situation. Anti-terror wings are also said to be on the spot.
The Home Minister, who is in Bahrain, telephoned the Delhi Police Commissioner to take stock of the situation in the national capital.
Verma briefed him about the incident and said steps have been taken, official sources said.
Also Read: Rajnath Singh to Delhi Police Commissioner Alok Verma: Ensure peace in city post Chandni Chowk blast
The Home Minister instructed the Delhi Police Commissioner to arrest those involved in the incident and take all possible measures to ensure peace in the city.
Delhi Police personnel have been maintaining a tight vigil in view of the festive season.
Mirza was a resident of Murshidabad in West Bengal and was working as a labourer in Delhi for last 15-20 years. "He had collected the bags from Gali Zakaria Mohalla Fatak Hawas Khana in Lahori Gate. Several bags with similar materials have been found at the address," the officer said.
The injured have been identified as Bhupendra Gupta, Mahesh, Hawa Singh and Murari. The impact of the explosion shook the buildings and shops nearby. The window panes, fans and other items in the shops were broken.