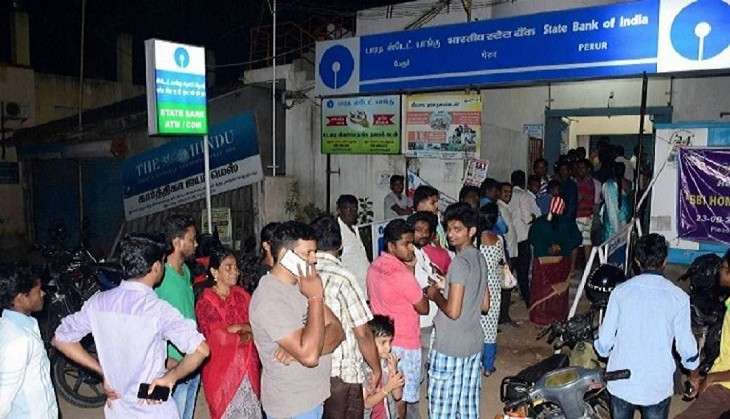 It's been less than a week since Prime Minister Narendra Modi declared to the nation that 500 and 1,000 rupee notes would no longer be deemed as legal tender. On the fateful night of 8 November, Modi announced the decision to demonetise higher value currency notes to curb the nuisance of black money, plunging the nation into a state of chaos.
In the days following the ban on Rs 500 and 1000 currency notes, panic-stricken citizens from across the nation scurried to banks and ATM counters, waiting in serpentine queues for hours, hoping to be able to exchange their notes, and gather whatever money in cash they could get their hands on.
While the initial announcement from the Prime Minister laid down certain exemptions in the usage of 500 and 1000 rupee notes, making it possible to transact with government bodies for a stipulated period of time, the ground realities are far from what the Centre may have anticipated.
The first couple of days saw the common man waiting patiently in queues, lauding the Centre's decision. Six days down the line, with banks running low on funds and dysfunctional ATM counters, their patience ran dry at a steady pace. The rose tinted glasses had come off.
Also read - Marriage season hit hard by demonetisation move. How is Rs 10,000 enough, families ask
Deaths, lathicharges and being denied treatment at clinics - inconvenience and utter chaos has become the order of the day in the country following the sudden implementation of the demonetisation programme.
'Minor inconvenience' amounts to loss of lives
Within two days of the implementation of the currency ban, reports of the first casualties of demonetisation trickled in. On 11 November, two deaths were reported from the state of Kerala itself. An elderly man standing in a queue in Kerala collapsed and died, while another fell to his death while filling forms to deposit over Rs 5 lakh worth scrapped high denomination notes.
Images of the dead body of Tirtharaji Devi of Gorakhpur, lying with two Rs 1,000 notes by her side, were splashed across social media. A washerwoman by profession, the 40-year-old allegedly died of shock after learning that banks will no longer accept denominations of Rs 1,000.
On 10 November, despite the fact that the exemption on the usage of 500 and 1000 rupee notes extended to petrol pumps, the father of an eight-year-old girl was refused fuel from a pump station, delaying her treatment by hours which eventually led to her tragic death.
Also read - The dead and their currency notes: The human cost of sudden demonetisation
Two incidences of heart attack deaths while waiting in queue outside banks were reported from the states of Gujarat and Madhya Pradesh on 12 November.
No cash, no treatment
In Bihar's Begusarai district, a government-run 1099 ambulance denied demonetised notes, delaying her treatment by almost three hours. The toddler's father had to arrange for Rs 1800 in 100 rupee notes before the ambulance driver budged, after which she was transported to Patna for advanced treatment.
A private hospital in Vishakhapatnam denied admission to an 18-month-old girl, the daughter of a watchman in Gajuwaka, who had been suffering from high fever. She eventually died, as the hospital authorities refused to accept the demonetised Rs 500 and Rs 1,000 notes, despite it being an emergency situation.
Also read - Watch: Clashes, deaths and loot-for-food mark PM Modi's demonetisation programme
Irony-laden anti-corruption drive
Eradication of black money and corruption is the vision behind the programme that has had the nation reeling since 8 November. However, considering the state of affairs that is bordering on a nationwide financial emergency, there are also those who are taking advantage of the helpless situation most of us have found ourselves in.
On 13 November, the story of an onion farmer being duped with a photocopied version of the newly released Rs 2,000 currency note went viral on social media. While 500 and 1000 rupee notes may have been banned to curb corruption, those dedicated to the cause of bypassing legalities to dupe people are having a field day.
The onion merchant was duped by his customer, who handed him a fake Rs 2,000 note at a shop at the APMC yard in Chikkamagaluru, which turned out to be a coloured photocopy of the freshly released original.
Also read - Fake notes out already? Karnataka farmer cries foul over new Rs 2000 note
Two bank employees in Hyderabad were booked for cheating and criminal breach of trust on 14 November. The duo were caught exchanging demonetised notes worth Rs 6 lakh without identification proof, after the manager filed a complaint with the police.
All this while the Prime Minister claimed that it is the rich who were in need of sleeping pills following the implementation of demonetisation, while the poor slept peacefully. Who is sleeping better now, Mr PM?