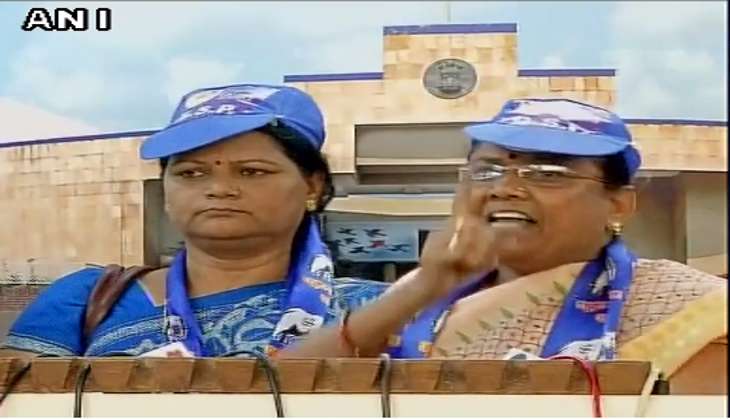 The war of words is just getting dirtier. First BJP leader Dayashankar Singh compared former Uttar Pradesh chief minister Mayawati with a prostitute. And now, Bahujan Samaj Party (BSP) MLA, Usha Chaudhary, on 21 July has called the suspended Uttar Pradesh BJP vice president an "illegitimate child".
"Since the BJP came to power, the Dalits have been tortured. The BJP government protected those who should be put behind bars. What Dayashankar Singh said about Mayawati ji, I think its Dayashankar's family which is like that. There is something wrong with Dayashankar Singh's DNA, I think he is an illegitimate child. That is why he made such a remark," ANI quoted the BSP leader as saying.
Additionally, BSP Chandigarh unit chief Jannat Jahan has announced that she will reward Rs 50 lakh to anyone one who gets Dayashankar Singh's tongue.
Meanwhile, Mayawati's supporters have erupted in several cities to protest the "prostitute" remark made by Dayashankar Singh. Singh's remark came when he accused the BSP supremo of accepting bribes in exchange for party seats in the upcoming Uttar Pradesh polls.
After an FIR was lodged against Dayashankar Singh for his inflammatory comment, a police team reached his residence at UP's Ballia district, only to find him missing.
--With ANI inputs
#WATCH BSP MLA Usha Chaudhary calls Dayashankar Singh an "illegitimate child", says "something wrong with his DNA"https://t.co/4B9yCyK6HT

— ANI (@ANI_news) July 21, 2016