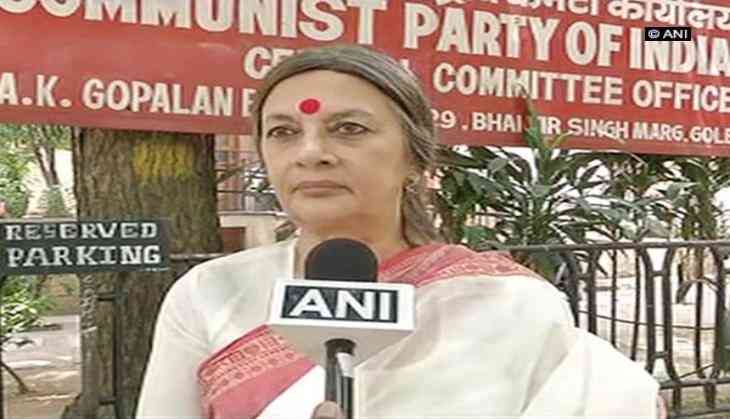 Communist Party of India (Marxist) on 15 August demanded action from Prime Minister Narendra Modi over his Independence Day speech from Red Fort.
CPI-M general secretary Sitaram Yechury said there is a 'blaring' gap between the statements given by Prime Minister Narendra Modi in his Independence Day address and the ground reality.
"Whatever I am hearing about solving the Kashmir issue or handling communalism is only in speeches and no real action is being taken. Even after the Gorakhpur tragedy, there are people standing together to express solidarity. This alone will not help, the government needs to take action," Yechury told ANI.
Responding to Prime Minister Modi's stance on eradicating communalism, Yechury referred to the recent attacks in the name of cow vigilantism and termed it to be the highest form of communalism that exists in India.
"In the recent past, we have seen the gau rakshaks attack innocent people in the name of nationalism and cow protection. Similarly, there are attacks on Muslims in various pockets of the country. If this is not communalism then what is?" said Yechury.
Defending this stance, CPI (M) leader Brinda Karat stated that before talking about embracing Kashmiris, Prime Minister Modi should first call for an all-party delegation and facilitate political dialogue over Kashmir.
"Forget about embracing Kashmiris, you are not even ready to talk to them. There is a huge gap between the statements given by the Prime Minister and the reality. His statements are the exact opposite of his actions," Brinda told ANI.
Furthermore, she opined that the ambassadors of the current government are 'preaching violence and discrimination'.
"The fight against communalism and casteism has to start. The fight needs to be against the Bharatiya Janata Party ( BJP) and Rashtirya Swayamsevak Sangh ( RSS) ideology," she said.
In his address on account of the 71st Independence Day, Prime Minister Modi said the Kashmir issue can't be resolved with bullets and abuses, but by embracing Kashmiris.
The Prime Minister further added that "we have to work for the progress of Jammu and Kashmir and we are committed to restoring Kashmir's status of Heaven on Earth".
Taking a clear stance on communalism, Prime Minister Modi asserted that in the country of Lord Buddha and Mahatma Gandhi, communalism will be detrimental.
"This is the country of Lord Buddha and Mahatma Gandhi. The poison of casteism and communalism can never be beneficial for our nation. Violence in the name of faith will not be tolerated," he said.
-ANI