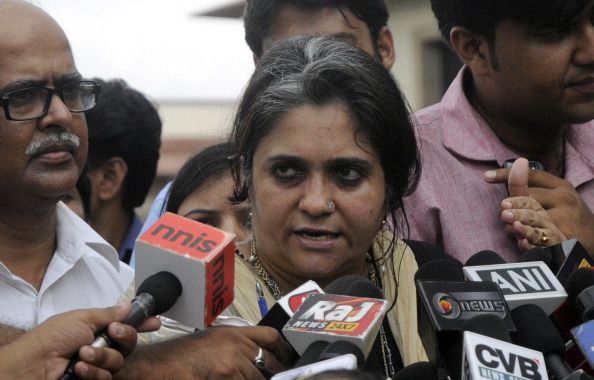 Activist Teesta Setalvad's anticipatory bail plea was rejected by a Mumbai court today.
Setalvad and her husband Javed Anand have been accused of violating foreign exchange laws and misusing the funds donated to her NGO by the US-based Ford Foundation in 2009.
The couple had moved for relief against likely arrest after the CBI raided their house and offices in Juhu on 14 July.
At an earlier hearing, the CBI controversially described her as "a threat to national security."
The Gujarat Police had opposed her anticipatory bail plea in the Supreme Court, saying that Setalvad and her husband spent the NGO funds on wine, earbuds, mobile phones, movie CDs and restaurant meals. The state police also accused the couple of trying to tamper with evidence.
Also read- The bizarre FIR against Teesta Setalvad as Zakia Jafri case approaches
Teesta claims it be an attempt to 'eliminate us', court warns her of contempt
When the court rejected her petition for protection from arrest, the activist said, "I am shocked and aggrieved. I and my sympathisers believe this is an attempt to intimidate and possibly eliminate us by the powers that be."
The court then warned her about contempt proceedings.
Teesta has denied wrongdoing in the multiple cases she confronts
Setalvad has denied any wrongdoing. Her lawyer said she is being persecuted for the cases that she has filed against PM Narendra Modi, accusing him of failing to stop the communal riots in Gujarat in 2002 where he was then chief minister.