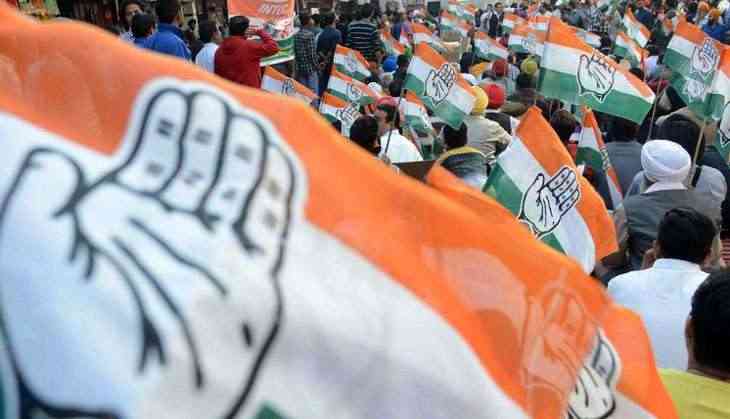 Opposition Congress on Wednesday forced three adjournments in the Rajya Sabha protesting the "stealing of mandate" in Manipur and Goa where it was not invited to form government despite being the single largest party.
The House witnessed adjournment of proceedings thrice, twice during the Zero Hour and once during the Question Hour.
Congress cited rulings by the constitution benches of the Supreme Court to state that the Governor was bound to invite the party with the largest number of MLAs to form the government and prove its majority on the floor of the House.
It alleged that the Governors in the two states, which in the recently concluded assembly elections threw up a hung assembly with Congress being the single largest party, were "acting at the behest" of the Centre.
Congress members stormed into the Well of the House shouting slogans, forcing Deputy Chairman P J Kurien to adjourn proceedings for 10 minutes.
Raising the issue through a Zero Hour mention after his notice under rule 267 seeking setting aside of the business was converted, Anand Sharma (Cong) said the people's mandate through the elections in a democracy should be accepted and respected by all.
He congratulated the ruling BJP for scoring a big victory in Uttar Pradesh and went on to say that the Congress got a massive mandate in the sensitive border state of Punjab and emerged as the single largest party with 28 MLAs in the 40 member Manipur assembly.
"The incumbent Chief Minister (in Manipur) was in a position to form the government" but the Governor ignored his claim and called the BJP to form the government, Sharma said.
He said the legal position has been established through two judgements of the constitution benches of Supreme Court which have "made it absolutely clear that if there is no clear mandate, the Governor is obliged to invite the leader of the largest party to form government and prove the majority."
In case the largest party is unable to prove the majority, the second largest party is invited, he said.
"The mandate has been violated," he said, adding Manipur and Goa have witnessed "stealing of MLAs and stealing of mandate". The Governor "is acting at the behest of the government," he alleged.
Minister of State for Parliamentary Affairs Mukhtar Abbas Naqvi said the reference about Governor should be expunged as references on the conduct of a person in high authority cannot be made without a substantive motion.
Kurien moved to the next Zero Hour mention and called D Raja (CPI) but Congress members would not give up easily and trooped into the Well raising slogans against the government and "murder of democracy". Treasury benches also shouted slogans to counter them.
Kurien said Raja was raising a Dalit issue and should be given a patient hearing and asked the treasury benches not to disturb and the opposition members to return to their seats.
But none heeded to his advice, forcing him to adjourn the House for 10 minutes.
--PTI