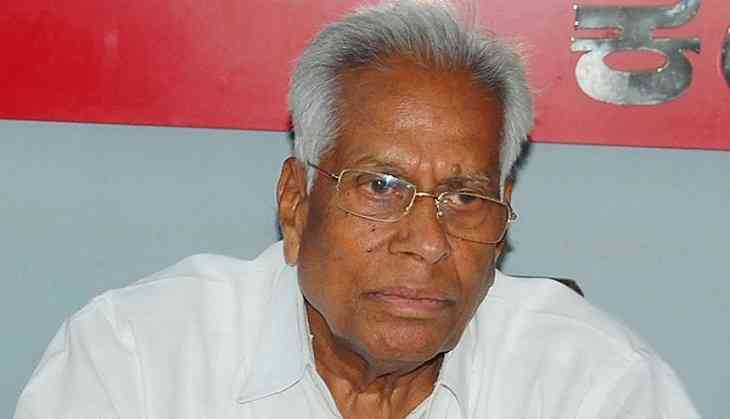 Slamming the Congress government for depositing a compensation of Rupee 1 for the damaged crops in farmers' bank accounts, farmer leader Basavaraj Ingin on Saturday said that this move should be punished by the public.
"The Congress Government in Karnataka headed by Siddaramaiah is doing surprisingly wonderful job in compensating drought relief measures. It has been doing works which need to be not rewarded, but punished by the people," Ingin told ANI.
He further said that in the Bagalkot district, it was found that a farmer has got Re. 1 in his account as the drought relief compensation.
"Similar instances are there in various districts in Karnataka wherein farmers have got Rs. 1, Rs. 5 and Rs. 10. If this is the state of affairs in a Congress-led government in Karnataka, Rahul Gandhi should also look at this," Ingin added.
He added that Rahul should first clean his own house, come to the people with clean folded hands and then talk about others.
The farmers in Karnataka were in for a shock when they received a compensation of Rupee 1 for damaged crops in their bank accounts.
However, the Congress Government in the state was quick to rebuff claims that the paltry relief was a mistake, saying this was a 'test case' to check authenticity of accounts after they were linked to Aadhaar recently.
Farmers in Vijapura, Dharwad, Hassan and Koppal districts said on Friday that one rupee was credited to their bank accounts by the State Revenue Department.
The Congress, which has been severely critical of the BJP's "insensitivity" towards farmers in Madhya Pradesh and Maharashtra, has now come under fire from the opposition.
Some farmers have suffered losses running into lakhs of rupees after crops went dry in the last drought.
Karnataka has seen successive droughts for six cropping seasons and farmers have been seeking compensation from the government.
-ANI