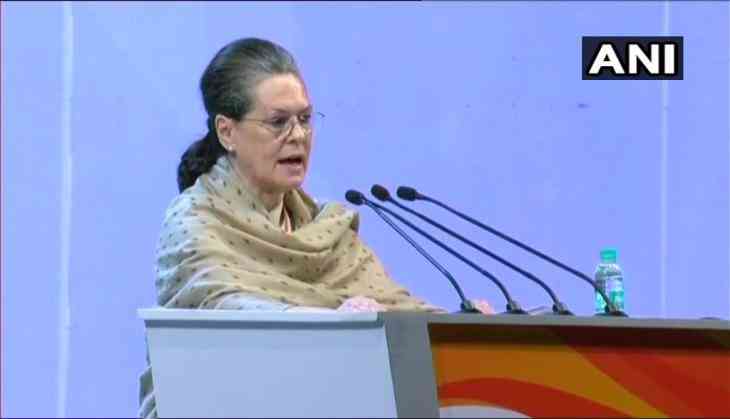 Congress chairperson Sonia Gandhi (ANI)
Coming down hevily on Modi government and its policies, chairperson of Indian National Congress Sonia Gandhi said that Prime Minister Narendra Modi-led government's flagship slogan "Sabka Sath Sabka Vikas" is all drama. She also said that the government is intoxicated with power and unleashed hatred.
Targeting Modi she said Modi government is intoxicated with power and it has unleashed hatred. Congress will not bow down, and it will never bow down. Modi Government is autocratic and it's bothering media.
She also said that Modi's slogan "Nakhaunga Na Khane Dunga" was all talk.
Talking on party's agendas, she said "this is our Congress Party that supports people and speaks against the injustice. We have to fight against all the challenges. We have to create a "pratishodh-mukt bharat" (a country free of revenge-taking). And for that we have to work together".
Praising the policies of Manmohan Singh government, she said "under the leadership of former PM Dr. Manmohan Singh, the economy of this country flourished. Our government formed policies which lifted millions of people from poverty. And today, Modi govt is weakening these policies".
Gandhi was addressing party workers at plenary session at Indira Gandhi Indoor Stadium in Delhi on Saturday.
She also urged party workers to sort out all personal differences and work collectively to achieve the party's vision. She said 'all of us should unite and work together. This is not the time to look at our personal issues. Party's win will be victory for all of us. Congress is not just a political party, but is a vision. The Congress has held a mirror to Indian values. The Congress should fulfill people's wishes and aspirations'.
Talking about her journey of politics, she further said 'everyone here knows how I entered politics. Circumstances forced me to join politics and everyone knows this. When I realized the party had become weak, I came and played a role'.