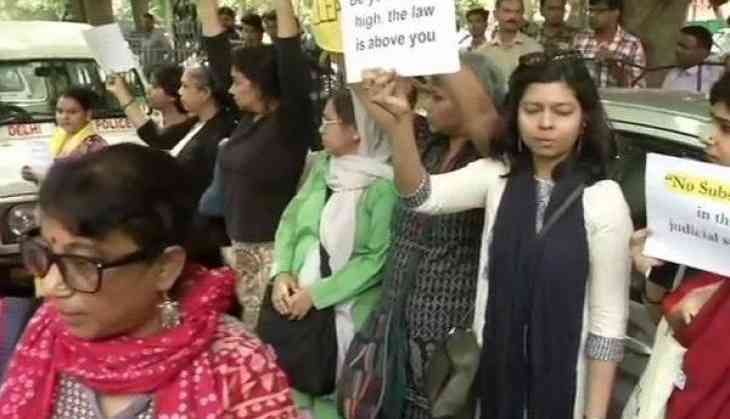 Day after Supreme Court panel gave clean chit to Chief Justice Ranjan Gogoi in sexual harassment charges levelled on him, people gathered outside the top court premises to protest against the directive. Lawyers and women activist, who gahtered outside the Supreme Court premises against the procedure adopted to deal with sexual harassment case against CJI Ranjan Gogoi.
The protestors were detained by the police and Section 144 has been imposed outside Supreme Court. The police barred any large group from gathering at the area in central Delhi's Lutyens' Zone.
"Procedure seems to be totally unjust... Why can't the victim be given the report? It's wrong. When they are dismissing the matter, more questions are being raised about the procedures adopted by the Supreme Court. It's injustice," said CPI(M) leader Brinda Karat.
A three-bench panel headed by Justice SA Bobde gave a clean chit to CJI Ranjan Gogoi in the sexual harassment case by a former female employee of the top court.
The protestors came in a move to support the woman employee, who has accused Chief Justice of sexually harassing her. They also held placards. "Transparent and fair due process is a must," read one of the placards, while another read, "Supreme injustice".
The woman said that she would not appear before the SC panel as she believed that she was not likely to get justice. The woman had said that she felt quite "intimidated and nervous" in front of three SC judges.
"It was an in-house committee of sitting judges junior to the CJI and not an external committee as I had requested..." she had said in a statement. "I was asked to narrate my account, which I did to the best of my ability even though I felt quite intimidated and nervous in the presence of three Hon'ble Judges of the Supreme Court and without having a lawyer or support person with me," the woman said.
The protesters who gathered outside the Supreme Court premises demanded the report should be shared with the complainant.
Also read: Sitaram Yechury attacks BJP: Country's economy, security have been run into ground in last five years