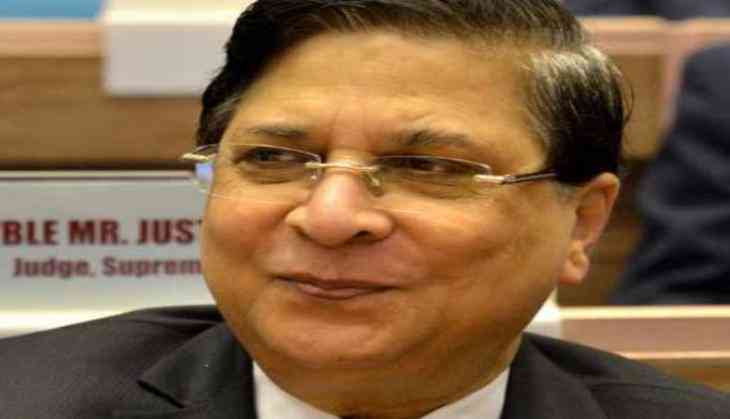 Amid top court ruling out on the death of CBI Special Judge Brijmohan Harikrishna Loya, the opposition leaders on Friday met Vice President Venkaiah Naidu at his residence and handed over a notice for Chief Justice of India Dipak Misra's impeachment.
According to sources, over 60 MPs of the Rajya Sabha belonging to seven political parties gave the notice for the impeachment against the CJI. Vice President Venkaiah Naidu could constitute a committee to look into the issue.
The Congress leader, Gulam Nabi Azad and the Leader of Opposition in Rajya Sabha, earlier called for a meeting with other political parties to decide the final move on the impeachment motion. He confirmed that the leaders were moving the notice for impeachment against CJI.
While addressing reporters in the national capital, Leader of the Opposition in Rajya Sabha Ghulam Nabi Azad said, "We have moved an impeachment motion seeking the removal of the CJI. Seventy-one MPs had signed the impeachment motion (against CJI) but since seven of them have retired, the number is now 64. However, we have more than the minimum requirement needed to entertain the motion and we are sure that the Honorable Chairman will take action."
Azad collected the signatures of MPs from several opposition parties including the Congress, CPM, CPI, NCP, SP and the BSP.
Congress leader Kabil Sibal said, "We wish this day had never come in the fabric of our constitutional framework. Ever since the day he (Dipak Misra) was appointed as CJI, questions have been raised in the manner in which he has dealt with certain cases."
He added, "We have moved a motion for removal of Misra under five grounds of misbehaviour. When the judges of the Supreme Court themselves believe that the Judiciary's independence is at threat, alluding to the functioning of the office of the CJI, should the nation stand still and do nothing?"
Supreme Court stated the move as unfortunate:
The top court on Friday sought Attorney General KK Venugopal's assistance on the notice seeking a muzzle order against the media on the CJI impeachment process supposed to be initiated against Chief Justice Dipak Misra in Parliament. Referring to the statements of opposition against judiciary member, Justice AK Sikri said: "It is unfortunate. We are all disturbed by what is happening. Legislators are also supposed to follow rules."
As per the Judges Inquiry Act, 1968, a complaint against a judge has to be made through a resolution either by 100 members of Lok Sabha or 50 Rajya Sabha members.
According to Indian Express, the plans were earlier shelved as Trinamool Congress and DMK refused to be part of the move. Even within the Congress, it is learnt, lawyer-politicians like Abhishek Singhvi had not signed the petition. The Congress ever since has been speaking in different voices on the proposal.
Also read: Supreme Court rejects Hasina Parkar's petitions; allows Centre to siez Dawood Ibrahim's Mumbai properties