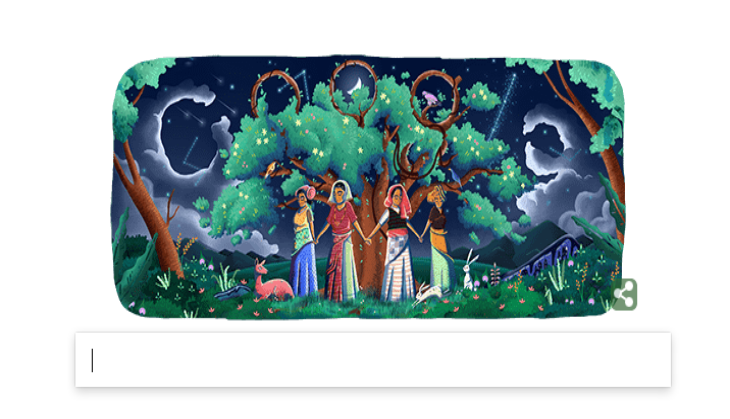 Today is the 45th anniversary of the Chipko Andolan, a conservation initiative of women against the deforestation. The aim of the Chipko Movement was to draw the attention and to prevent deforestation. Today on the 45th anniversary, the Google doodle pays honour to the group of women protesting against the deforestation.
The women who stood around the trees in a forest, their hand linked together under the moonlight. The women in the doodle are seen wearing traditional Garhwali attire standing under moonlight, holding each other hands to protect the trees from cutting down.
What is the 'Chipko Movement'?
The Chipko movement took place in the 18th Century, it was lead by Amrita Devi, and 363 women from 84 villages of the then Uttarakhand (then Uttar Pradesh) took to themselves to protect khejri trees from being cut down. The order to cut down the trees were given by the king of Jodhpur.
The deforestation occurred on a huge scale to make roads, industry or a way for the dams. It was initiative of Sunderlal Bahuguna, a renowned environmentalist. In the movement, some women have hugged the tree from being cut down. This Andolan was known as 'angalwaltha, a Garhwali word which means "embrace", which was later termed as the Chipko Movement.
This initiative of the women has inspired several people and later it became environmental protests known as Chipko Andolan.
Also read: Facebook data leak: Indian government to send a notice to Facebook CEO Mark Zuckerberg