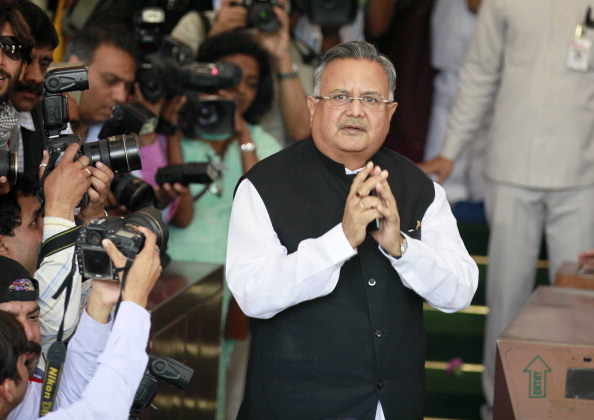 The purported conversation between key political players in Chattisgarh in order to give the ruling BJP party a walkover in 2014 bypolls in the insurgency hit Bastar region has snowballed into a major controversy.
The Congress is demanding Chief Minister Raman Singh's resignation. Responding to this Raman Singh said: "Congress sees BJP's role in everything. Would be better for them to resolve their internal issues.This is an internal matter of Cong. BJP has nothing to do with it. "
The Chhattisgarh Congress issued a show cause notice to Amit and decided to wait for a report from the state unit to decide on the action against Ajit Jogi "since he is a member of Congress Working Committee."
Recalling that the party in a petition to Election Commission had alleged inducement behind Congress candidate Manturam Pawar withdrawing from Antagarh bypolls in September last year, AICC general secretary BK Hariprasad said the tapes clearly prove that the party's allegations were correct.
AICC Communication Department Chief Randeep Surjewala said Congress had then alleged that the Chhattisgarh Chief Minister made the Congress candidate withdraw his nomination by offering inducements. Congress had then expelled Pawar from the party soon after he withdrew his candidature for Antagarh Assembly bypoll.
"The tapes now prima facie prove the allegation. Keeping in view his tall promises of not allowing corruption at any cost, Prime Minister Narendra Modi should immediately sack, dismiss or force Chhattisgarh Chief Minister Raman Singh to resign. The matter should be probed by a sitting Judge of the Supreme Court," he said.
Surjewala said since the names of Congress leaders have also surfaced in the tape, their conduct should also be probed. "Examine the role of all by including that of Ajit Jogi or any other Congress leader's conduct.
Since the Chief Minister holds a top Constitutional post in the state, he should immediately be asked to ensure a fair probe. "Congress also assures that it will take appropriate action against its leaders after the probe finds anything against them.
Congress stands committed to take action on the basis of the outcome of the probe," Surjewala said. Hariparsad said PCC has issued a show cause notice to Amit Jogi and asked him to explain the matter within seven days.
"As far as Ajit Jogi is concerned, he is a Congress Working Committee member and only Congress President can take action against him. "After going through the report of the state unit into this matter, the AICC Disciplinary Committee headed by A K Antony will take a call on action about Ajit Jogi," he said.
With inputs from PTI