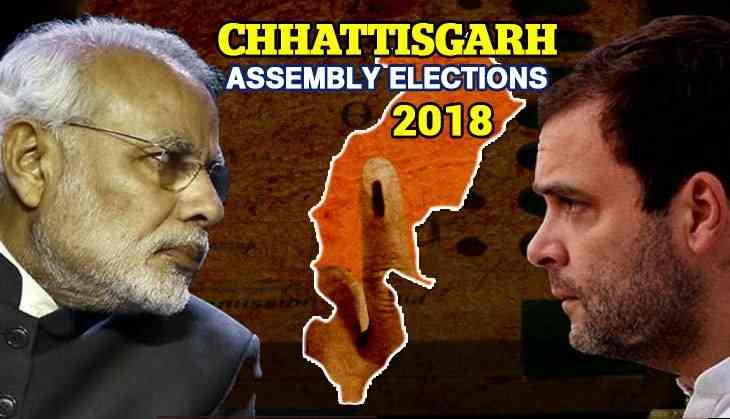 Chhatisgarh Assembly Election 2018
The final phase of Chhattisgarh Assembly election has begun and the voting is underway and the voting has started for the 72 seats.
The BJP has gone in with the same chief ministerial face, Raman Singh, who has been at the helm for last 3 terms and the Congress is facing the heat, as it did not pose any strong regional leader in the state.
The anti-incumbency is high in Chattissgarh but the BJP is trying to retain the state as most of the opinion polls suggest, that the ruling dispensation will be able to form the government.
The last phase counts for 72 seats, which have been the stronghold of the BJP as they had won 42 out of their tally of 49 from these 72 seats. The last phase had 18 seats and they were conducted under heavy security cover, due to Maoists boycotting the election and threats to life, and IED blasts have triggered a law and order situation, for which the election commission was prepared well enough.
BJP is focusing on the record of development, and how the Raman Singh has fared for the farmers but the election might swing towards the caste politics, which might be played out by the Ajit Jogi's JCCJ and Mayawati's BSP, who have formed an alliance for the polls.
The game changer for this election is this second phase, which holds the key and is a stronghold of the BJP. The Congress is riding on the faith and words of Rahul Gandhi, who has emerged as a Rahul 3.0 with his significant attack and rallies across the country.
Also read: Chhattisgarh Assembly Elections 2018 Phase 2: Voting for 72 constituencies in 19 districts begins
Chhattisgarh: Visuals from a polling station in Bilaspur district's Pendra. Voting for the second phase of #ChhattisgarhElections2018 will be conducted today. 72 constituencies will undergo voting at 8 am today. pic.twitter.com/6aiydKuluz

— ANI (@ANI) November 20, 2018