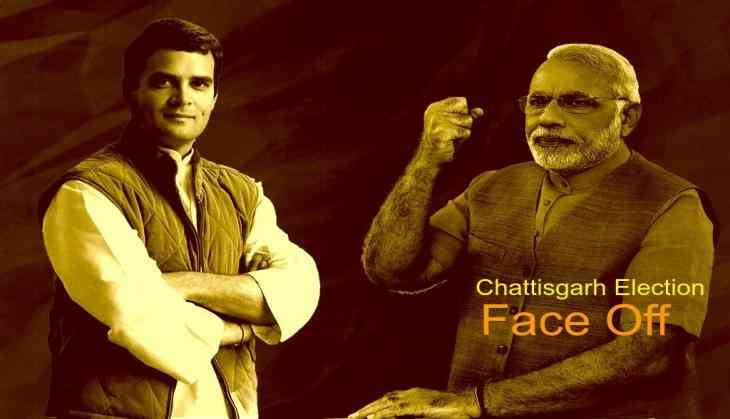 Chhattisgarh Assembly Elections 2018
The Chhattisgarh Assembly election has entered in its final phase and the voting has begun to choose the next government, amidst crorepati and criminal candidates.
The Chhattisgarh chief election officer Subrat Sahu has told the reporters that there are 1.54 crore voters in the second phase on 72 seats and out of them, 77.53 lakh are male and 76.46 lakh are female with 877 transgender voters. The polling at two booths will happen in between 7am and 3pm and the rest 19,336 booths will happen at the usual time, 8am and 4pm.
Th incumbent chief minister Raman Singh has asked the people of the state to recall the condition in which the Chhattisgarh was in 2003 and compare it with today's development and modernization.
As the phase 2 of the polls are underway, there are 1057candidates in the fray who are contesting the election today. 6 national parties are fighting it out in Chhattisgarh, namely Congress, BJP, Bahujan Samaj Party, Nationalist Congress Party, Communist Party of India, CPI(M), whereas 23 state parties will be posing challenge against each other, in which some prominent are Janta Congress Chhattisgarh, Samajwadi Party, Aam Aadmi Party, Gondwana Gadtantra Party and Janta Dal United, with 483 candidates contesting independently.
The party with highest no. of criminal records is Indian National Congress (18), and the Aam Aadmi's hopes the AAP has 17 candidates with criminal background. The newly formed Janta Congress Chhattisgarh has 15 and the ruling BJP, to everyone's surprise has 6 criminal candidates. The GGP had 4 and Independent has 36.
With largest political funding in last 4 years, the BJP has 61 crorepati candidates and the Congress remains at 2nd at 53. The JCC has 35 and AAP has 13 crorepati candidates, and the BSP has 12. Out of 483 candidates, 42 are crorepatis.
TS Singh Deo if the Congress has highest declared asset value of over Rs 500 crore.
Also read: Chhattisgarh Assembly Elections 2018: Voting begins as BJP battles anti-incumbency; Jogi-Mayawati
Voting has begun for the second and final phase of polling on 72 seats. Visuals from a polling booth in Ambikapur #ChhattisgarhElections2018 pic.twitter.com/FybsqIZN17

— ANI (@ANI) November 20, 2018