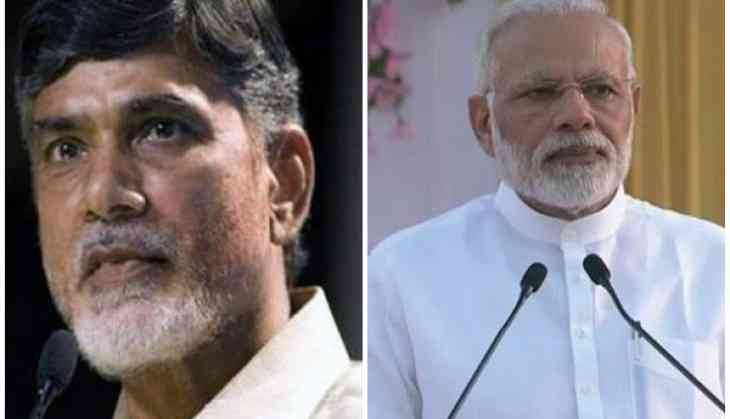 The Chief Minister of Andhra Pradesh, Chandrababu Naidu and his party Telugu Desam Party (TDP) alleged PM Narendra Modi Government as dictatorial government. TDP party leader Naidu lashed out on Bhartiya Janata Party central government during TDP's three-day annual conclave on Tuesday at Mahanadu.
He declared his intentions to unite the regional parties to fight against the saffron agenda. TDP stated in its resolution, "The Centre is weakening the financial condition of states... The unilateral style of functioning of the Modi Government has led to a loss of trust of states in the central government. The states feel that the concept of federalism is only on paper,".
TDP adopted a political resolution in its annual conclave "Mahanadu" in #AndhraPradesh's Vijayawada.Resolution stated,"on occasion of oath ceremony of Kumaraswamy,leaders of various political parties assembled in Bangalore as token of solidarity of Regional political parties 1/2 pic.twitter.com/e3FJeaYxIO

— ANI (@ANI) May 29, 2018
N Chandrababu Naidu was a tall leader in this meet and it was a clear indication that regional political parties are going to be a power to reckon with in the 2019 elections as an alternative to the National parties to form a government in Delhi" 2/2

— ANI (@ANI) May 29, 2018
The resolution speaks to the work objective of Narendra Modi government and it stated that attitude of Modi government is creating a hostile situation for opposition and other constitutional bodies, he said "unilateral and anti-people decisions, misuse of central intelligence agencies and regulatory agencies to suppress political opponents have become a matter of grave concern in the Indian polity".
The lack of strong oppositions had created a need of strong front to fight against the Bhartiya Janata Party in 2019 Loksabha elections. He also commented on the TDP decision of separating itself from BJP led National Democratic Alliance.
The resolution states that "We ended the alliance with the NDA only in the interests of the states... The BJP is resorting to conspiracy to destabilise us. We are not afraid of anyone. Ready to sacrifice everything. We will not stop until Andhra is given special status and the Polavaram project completed,".
He also spoke on other issues like increasing unemployment rate in the country, which was 3.4 per cent when UPA government finished its tenure in 2014.
Also read: Major blunder by IOCL: Fuel prices cut by 1 paisa and not 60 paise on petrol