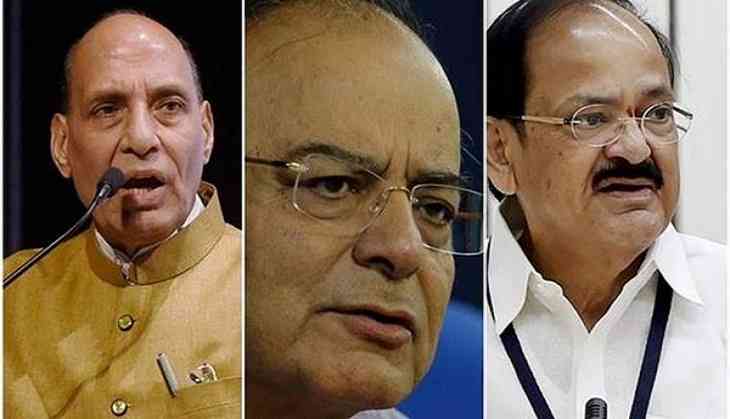 Union Ministers Rajnath Singh and M. Venkaiah Naidu have reached out to the Opposition parties to finalise a consensus candidate for the upcoming Presidential elections.
BJP President Amit Shah has constituted a three-member-panel- Finance Minister Arun Jaitley, Home Minister Rajnath Singh and Union minister M. Venkaiah Naidu- to talk with the Opposition parties to finalise a consensus candidate for country's next President.
Since Finance Minister Arun Jaitley is on a four-day official visit to South Korea, so Rajnath Singh and Naidu are leaving no stone unturned to woo the Opposition.
On Friday, they held discussion with Congress president Sonia Gandhi, her party colleagues Ghulam Nabi Azad and Mallikarjun Kharge.
After the meeting, Naidu said that Prime Minister Narendra Modi and BJP president Amit Shah want a consensus before the candidate for the post of president is finalised.
Naidu explained the twin objectives of the consultation process were "to have the benefit of the views and suggestions of various parties in the matter and also to seek their support in the election".
After exchange of views with the grand old party cadre, Naidu and Singh held discussion with Communist Party of India (Marxist) leaders Sitraram Yechury, Prakash Karat and Brinda Karat.
Naidu and Singh are also scheduled to hold talks with Community Party of India (CPI) leaders Sudhakar Reddy and D. Raja later this evening.
Naidu has already met Nationalist Congress Party (NCP) chief Sharad Pawar over the Presidential election.
According to reports, the BJP committee is holding discussions with all parties as they are trying to finalise a consensus candidate for Presidential poll before Prime Minister departs for foreign tour on June 24.
BJP was forced to form a panel for parleys with the Opposition as Congress President Sonia Gandhi constituted a sub-group of the Opposition parties for the Presidential election to create troubled waters for the ruling National Democratic Alliance (NDA) for the country's coveted post.
Congress leaders Ghulam Nabi Azad and Mallikarjun Kharge, JD(U) leader Sharad Yadav, Rashtriya Janata Dal (RJD) leader Lalu Prasad Yadav, CPI(M) leader Sitaram Yechury, TMC leader Derek O'Brien, Samajwadi Party's Ram Gopal Yadav, BSP's Satish Chandra Mishra, DMK leader R.S. Bharathi and NCP's Praful Patel are part of the sub-group.
The election for the next president of India is to be held on July 17 as President Pranab Mukherjee will demit the office on July 25. The Election Commission of India (ECI) has issued the notification in this regard and the process of the nomination has started that will continue till June 28.
-ANI