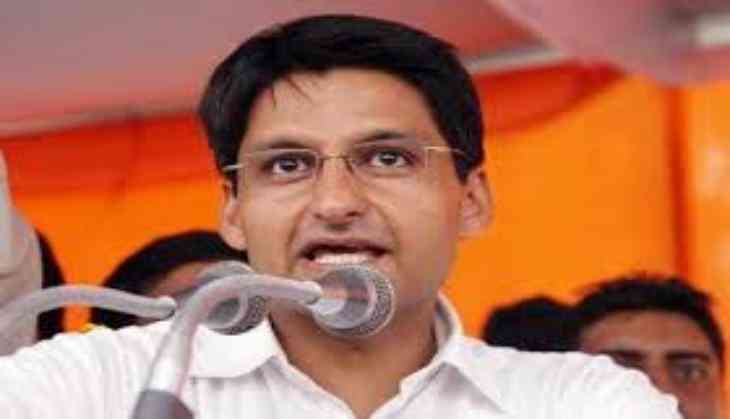 The Congress on 5 July alleged that the Union government had overlooked Haryana's interests by deciding to "shift" the proposed international airport to Jewar in Uttar Pradesh.
Congress leader and Rohtak MP Deepinder Singh Hooda claimed that the airport had been sanctioned for Haryana by the previous UPA government.

He also attacked the Manohar Lal Khattar government accusing it of having failed to protect Haryana's claim.
"Ignoring Haryana's claim for an international airport, the Centre recently made a announcement for setting up of a new international airport at Jewar, Uttar Pradesh. Thus, shifting the airport project which was to come up in Haryana," Hooda told reporters here.
An international airport with a capacity to handle 30-50 million passengers per year will come up at Jewar in Greater Noida in the next five to six years to ease the load on the Delhi airport, the government had recently announced.
Hooda also accused the Centre of putting on backburner various development projects worth Rs 1 lakh crore for Haryana including the airport project, which had been sanctioned and approved during the previous Congress led UPA regime.
"Apart from the Rs 20,000 crore airport project, this includes the Rail Coach Factory, which was to come up in Sonepat and National Defence University in Gurugram," he claimed.
He said that as a Lok Sabha MP from Haryana he had pursued with various central ministries seeking necessary permissions and clearances for setting up a greenfield airport-cum-cargo complex at village Bhaini Bhairon in Meham.
Hooda said that he had raised in the Parliament as to why the airport was not coming up in Haryana despite being sanctioned by the previous government.
"When I raised the matter on the floor of the House, I was told that some files related to the project were not found. However, now in the forthcoming monsoon session, I will again raise this matter and question the Centre abour shifting the project to UP. Haryana has not been fairly treated, we will fight it tooth and nail.
"I want to make it clear that we have nothing against UP as such, but we want to know why has a project which was sanctioned for Haryana gone there," he said.
Hooda said that Haryana remained one state in the country, which does not have a single airport, either domestic or international.
We are relying either on Delhi or Chandigarh airport, he said.
Hooda said that for the airport at Meham, the Airport Authority of India (AAI) had conducted a feasibility study, which came out positive and an NoC was provided by the Ministry of Defence also.
A proposal to the Ministry of Civil Aviation for setting up the project was sent by the then Congress government in the state on December 16, 2009 and on June 2010, inspection of site and pre-feasibility study by AAI was carried out, he said.
"On April 29, 2011, I met the then Prime Minister Dr Manmohan Singh and requested him to review the Airport Infrastructure Policy of 1997 to enable setting up of a second airport within 150 km distance of the existing airport which was not allowed under the earlier policy.
"I also met the then Defence Minister and Defence Ministry granted NoC for the proposed site," he said.
The Modi government had put the entire project on the back burner, he alleged.
An international airport would have meant employment for thousands of Haryana youth, he said adding that the project could have also catered to states like Punjab and Rajasthan also.
Hooda said that he would like to appeal to MPs from the region including BJP MP from Bhiwani-Mahendergarh Dharamvir and Hisar MP Dushyant Chautala of INLD, whose constituents would have benefited from the airport project to join hands and fight for bringing it back to Haryana.
"I am also willing to be part of any all-party delegation to meet the Prime Minister on the issue if the chief minister of Haryana decides to take a lead in this," he said.
-PTI