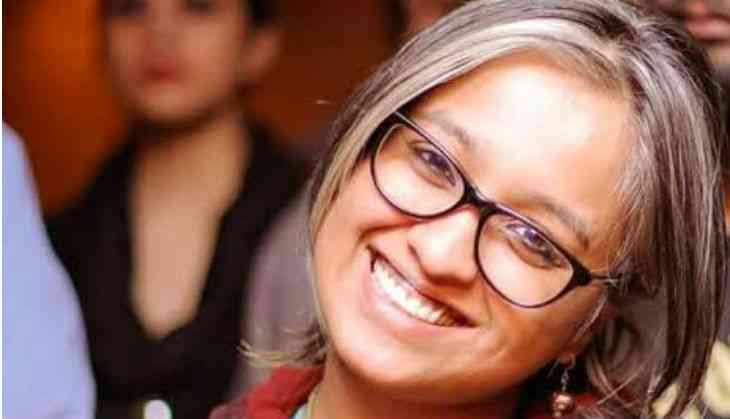 Vaibhavi Kowshik's hair started greying as soon as she had stepped into her teens. Blame her genes, or a B12 deficiency, but the experience was traumatic. She did everything to camouflage her greying hair, to tide over the identity crisis, to lead a black and white life.
After an emotionally distressing experience, she stopped colouring her hair. She decided to not blend in, to live life on her own terms.

"I decided to change. I stopped colouring my hair. I chopped them off. It's now grown into this beautiful salt-and-pepper," Kowshik tells Catch.

The decision was emancipatory. The image of the self that she carried in her head did not bother her anymore. Or the fact that "uncles' would hit on her mistaking her to be much older than she actually is.

She enrolled at the National Institute of Design in 2006 where it was common to see women with bald heads.

"The first time I shaved mine was in 2006, because my nani (maternal grandmother) had passed away and my brother didn't want to. So we switched roles and the ceremony pundits just had to deal with it as we gave them a shaved head by the end of it," she says. That was easy. But not when she decided to go off colour.

"I was scared as hell when I first decided to not colour my hair. I remember not stepping out for a whole week. And then someone summoned a meeting so I gathered courage and I went for it. Everyone was so glad to see me, we all forgot about the hair by the end of it. And that's what I needed... My friends and family to give me courage. And they always have."

Kowshik is proud of the fact that she has inspired other women to carry off this salt-and-pepper look with elan. She is also proud that her look has become a conversation starter in buses and metro rails.

"Earlier my decision was rebellious, now it's just a way of life," she adds.

Kowshik is comfortable in her skin, has learnt to traverse the grey zones of her life, and does not worry about gratifying the male gaze. She is truly emancipated.


Hair & women
Kowshik's decision is noteworthy, because a woman's hair symbolises plenty.

It's her shame, her glory. It showcases her sexuality, her piousness, exudes energy, instills fear. It is a reflection of her inner and outer self. Her hair is magical, symbolic, emancipatory, incarcerating. A woman is 'her' hair.

In the 1960s, women chopped off their hair to flaunt their emancipation. There has been a reversal of the trend to assert their femininity since. Yet they often - subconsciously or not - cater to stereotypes that are mostly male constructs.

The politics of hair takes on a whole new meaning in an Indian context. Hair, mostly long and flowing, is considered desirous, also iconic, as most Indian goddesses had long hair.

Senior sociologist Neshat Quaiser says hair is a cultural trapping that occupies an important place in human imagination reflecting the ways in which a human body is viewed in a culture.
"For example a particular hairstyle or a particular way of sporting hair can become a marker of protest. It may always not be an indicator of critical consciousness, but appear just a surface contestation or protest and yet convey a challenge to power and authority," says Quaiser.
"Female body was viewed complete and feminine only with thick long hair, and if the hair was curly it was still better. Various means and ways were employed to thicken and lengthen hair," he adds.
Phallic Symbolism
Researchers say a significant percentage of women, and now even men, may not step out on a bad hair day and that women who felt that they looked younger after a haircut or a new hair colour showed a drop in blood pressure.
There is also the classical theory of hair symbolism that the head often stands for the penis.

The phallic symbolism of the head, it is argued, is transferred to the hair, where hair itself may stand for semen or the phallus.

"Cutting of hair or shaving is thus viewed by proponents of the psychoanalytic theory as equivalent to castration," a researcher has concluded.
In this madness, Kowshik is a rarity who isn't in a rush to seek instant gratification, and surely not male gratification.

Though she does not believe in the merits of celebrating womanhood on a particular day, it's a happy feeling to not see the phallic symbolism of the hair go to her head.

Kowshik is liberated and she is celebrating every moment, not just on March 8.