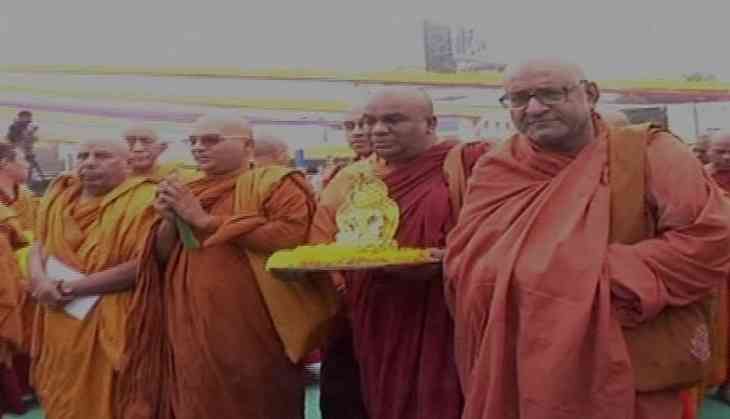 'Global Shanti: Amaravati Buddhist Heritage Festival' kicked off on Saturday at Swaraj Maidan here.
The three-day festival, organised by the Andhra Pradesh Tourism Authority, aims to set a world record for 'largest online chanting session.'
Krishna district collector B Lakshmikantham and Andhra Pradesh Tourism Development Corporation chairman professor V Jaya Rami Reddy inaugurated the event that is aimed at promoting Buddhist locations in Andhra Pradesh.
More than 1000 monks from various countries including like South Korea, China, Myanmar, Japan, Thailand, Sri Lanka, Malaysia to participate in the festival. A greater number of participants are expected to join for the global chant that will take place today.
On the first day, monks organised a rally from PVP Centre to PWD Grounds on Mahatma Gandhi Road. Lakshmikantham also walked the rally and later offered prayers. He said Amaravati was famous for its Buddhist heritage and the event was organized to promote peace and harmony.
"It's nothing but peace yatra. Peace is the most powerful weapon in the world. We are expecting a lot of crowd of this event," Lakshmikantham told ANI.
Andhra Pradesh is home to more than 200 important Buddhist sites dating back to the 3rd Century B.C. and is an important centre for pilgrimage and study. It has The Great Buddhist Stupa in Amaravati that is the largest in India.
-ANI