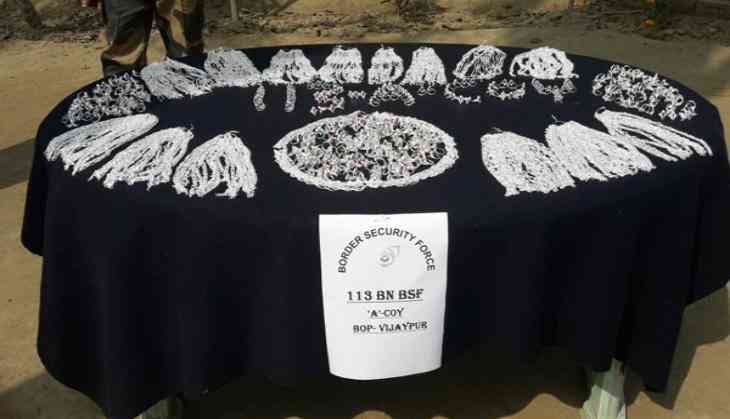 The Border Security Force (BSF) South Bengal Frontier seized at least 5.650 kg of silver jewellery worth Rs. 2.18 lakhs approximately in two separate incidents in Krishnanagar sector on Wednesday.
The information was received regarding the smuggling of silver ornaments in the Vijaipur border outpost, under Krishnanagar police station limits in West Bengal's Nadia district.
A special ambush was planned and was laid by the BSF forces at the suspected places.
At about 10:55 am, the special ambush party observed a suspicious person coming towards the Indo- Bangladesh Border Road (IBBR). When the person reached near the IBBR, the party demanded him to stop.
On this, the suspect threw one bag from his possession on the road track and started to flee. The party chased the suspect, but he managed to escape.
After a thorough search of the area, the party recovered a bag and found around five packets inside. On opening the packets, 70 pairs of silver anklets and 452 silver rings were recovered worth Rs. 2.18 lakhs.
Keeping in view the vulnerability of the border, P.S.R. Anjaneyulu, the Inspector General OF BSF South Bengal Frontier has issued operational guidelines so as to effectively check the menace of smuggling and other suspicious activities on the Indo-Bangladesh border.
Last year, the BSF South Bengal Frontier had seized 14.69 kg of silver worth Rs. 4.53 lakhs
--ANI