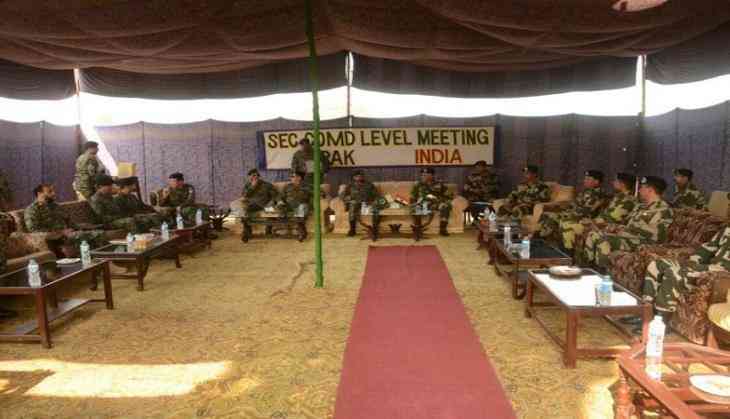 A Sector Commander-level flag meeting was held between the Border Security Force (BSF) and Pakistan Rangers on the International Border (IB) in Suchetgarh area on Thursday.
The meeting was held on the request of the Pakistan Rangers, in which the BSF objected to snipping of two of its soldiers on January 3 and January 7.
The Indian forces also raised the issue of unprovoked firing and shelling from the other side of the border, targeting a number of Indian villages, innocent civilians and their properties.
Conveying strong protest, the BSF sent the message that such provocative acts are unacceptable and will not be tolerated.
The BSF delegation comprised of five officers and was led by P S Dhiman, DIG BSF Jammu Sector.
While, Brigadier Amjad Hussain, Sector Commander Chenab Rangers, Sialkot Punjab, Pakistan led the Pakistan delegation comprising of 10 officers including Wing Commanders.
Last Sector Commander level meeting was held on September 29, 2017.
This meeting is the first Sector Commander level meeting held on the request of Pak Rangers between the two border guarding forces since heavy shelling and firing experienced on the International Border during the last week in which BSF gave calibrated reply to Pakistan.
--ANI