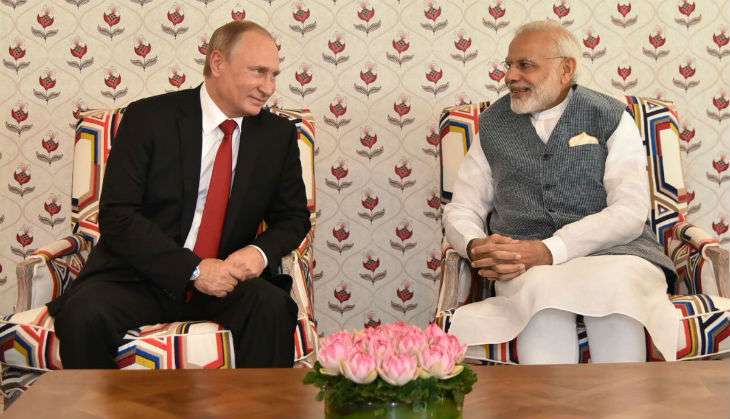 Prime Minister Narendra Modi and Russian President Vladimir Putin issued a joint statement after talks on the sidelines of BRICS Summit in Goa on 15 October.
Both countries signed Memorandums of Understanding on railways, gas pipelines along with some other key issues.
India and Russia sealed major defence deals, including the purchase of missile systems, frigates and joint production of helicopters besides deciding to deepen cooperation in a range of crucial sectors even as the two close allies resolved to fight the menace of terrorism unitedly.
PM Modi and President Putin signed a total of 16 MoUs and made three announcements to boost ties in sectors like trade and investment, hydrocarbons, space and smart cities. The two leaders also dedicated the unit two of Kudankulum nuclear power plant and witnessed foundation laying of its Unit 3 and 4.
The defence deals included India buying the 'gamechanger' S-400 Triumf air defence systems from Russia at a cost of over US$ 5 billion. The two countries will also collaborate in making four state of art frigates besides setting up a joint production facility for making Kamov helicopters.
Reading out a statement to the media in the presence of Putin, the Prime Minister appreciated Russia's understanding and support of India's actions to fight cross-border terrorism, an oblique reference to India's surgical strike across the LoC targeting terror launch pads
"Russia's clear stand on the need to combat terrorism mirrors our own. We deeply appreciate Russia's understanding and support of our actions to fight cross-border terrorism, that threatens our entire region," he said.
Addressing the media, PM Modi said: "An old friend is better than two new friends. I am aware of your deep affection for India. Your personal attention has been a source of strength in our relationship. In a complex and changing global context, your leadership has provided stability and substance to our strategic partnership".
"With the dedication of Kudankulum 2 and laying of foundation of K 3 & 4, we saw tangible results of India Russia cooperation in Civil Nuclear Energy," PM Modi said.
"In the last 4 months alone, in Hydrocarbon sector, Indian companies have invested close to US$ 5.5 billion in Russia's Oil and Gas sector," he said.
On his part, Putin said that both countries were united in their fight against terrorism.
-- With PTI inputs