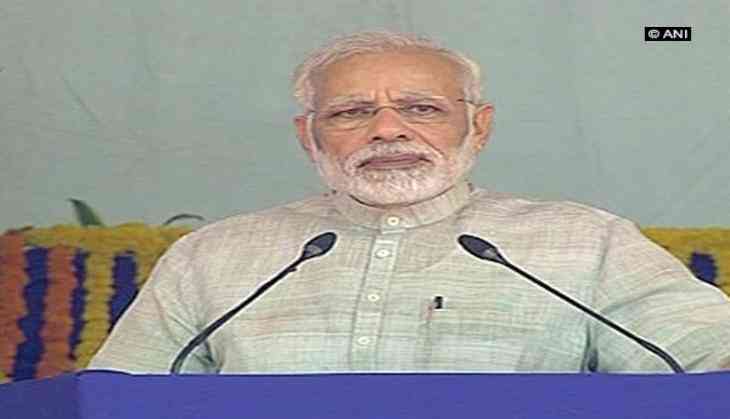 Prime Minister Narendra Modi on 7 October announced that his government is taking steps towards the empowering fishermen, and added the Blue Economy must act as a catalyst in improving India's progress.
"The Government of India is taking steps towards empowerment of fishermen. We do not want our fishermen to live in poverty, we want to create more opportunities for them. The government will give them loans on less interest so they can buy bigger boats," Prime Minister Modi said at a rally at Dwarka.
"We want development of ports and port-led development. The Blue Economy must act as a catalyst in improving India's progress. Kandla Port is seeing unprecedented growth. This is because we have devoted resources to improve the port. A new lease of life was added to Alang, steps were taken for the welfare of labourers working there. These are steps we are taking towards development," he said.
He also said that the building of infrastructure should enhance economic activity and add to the atmosphere of development.
"Building of infrastructure should enhance economic activities and add to the atmosphere of development. I still recall how tough it was for people of Bet Dwarka. Lack of infrastructure meant transportation was tough, people faced difficulties if an emergency came up. We wanted to change this with a push on infrastructure," he said.
He further stated that the government is mordernising the marine security apparatus.
"Marine policing is a sector we are looking at very closely. We are modernising marine security apparatus. An institute for this will be set up in this Devbhoomi of Dwarka. It will draw people and experts from all over India," he added.
He further assured that the Centre is taking steps to ensure greater income for farmers.
Meanwhile, Prime Minister Modi also talked about the development of the tourism sector and said that it cannot be left isolated.
"Development of the tourism sector cannot be in isolation. If we want to draw more tourists to Gir, we should also inspire the tourist to visit other parts like Dwarka.
The Prime Minister laid the foundation stone for a bridge between Okha and Bet Dwarka.
Before addressing the gathering, Prime Minister Modi offered prayers and attended a special prayer at the Dwarikadheesh Temple.
Modi is on a two-day visit to the state.
At Dwarka, he laid the foundation stone for a four-lane cable-stayed signature bridge between Okha and Bet Dwarka to be built at a cost of Rs. 962 crore.
Other projects for which foundation stone will be laid include four-laning of 116.24 kilometers of Porbandar-Dwarka section of NH-51 and four-laning of 93.56 km of Gadu-Porbandar section of NH-51.
From Dwarka, the Prime Minister will go to Hirasar in Rajkot district where he will lay the foundation stone for a Greenfield airport.
Prime Minster Modi will also lay the foundation stone in Chotila for six-laning of 201-kilometer Ahmedabad-Rajkot section of NH-47 at a cost of Rs. 2,893 crore.
He will also dedicate a fully automatic milk processing and packaging plant and a drinking water distribution pipeline for Joravarnagar and Ratanpur area of Surendranagar. The Prime Minister will address a public meeting there as well.
The Prime Minister will then proceed to Gandhinagar, where, he will dedicate the newly-constructed building of IIT Gandhinagar to the nation and launch the Pradhan Mantri Gramin Digital Saksharta Abhiyan (PMGDISHA). The Abhiyan is aimed at imparting digital literacy to citizens in rural areas, and provide access to information, knowledge, education and healthcare.
On Sunday, Prime Minister Modi will visit his birthplace Vadnagar in Mehsana district. He will inaugurate a medical college and a hospital having a total bed capacity of 650.
Prime Minister will also launch the Intensified Mission Indradhanush to accelerate progress towards the goal of full immunization coverage. The mission will provide greater focus on urban areas and other pockets of low immunization coverage.
The Prime Minister will also distribute e-tablets to health workers to mark the launch of ImTeCHO (Innovative mobile-phone Technology for Community Health Operations).
ImTeCHO is aimed at improving the performance of community health workers ASHAs (Accredited Social Health Activists) through better supervision, support and motivation for increasing coverage of proven maternal, newborn and child health interventions among resource-poor settings in India.
The same afternoon, the prime minister will reach Bharuch and lay the foundation stone for Bhadbhut Barrage, to be built over the Narmada River.
He will also flag off the Antyodaya Express between Udhna (Surat, Gujarat), and Jaynagar (Bihar). Mr Modi will also unveil plaques to mark the laying of foundation stone, and the inauguration of various plants of Gujarat Narmada Fertilizer Corporation. He will also address a public meeting there before returning to Delhi.
-ANI